Ranking the top face masks in 2020 to see which reusable facial protectors work best at being the most effective for adding filtered defense against airborne particulate matter (PM2.5) after ample amounts of testing and researching.
2020 is the year face masks went mainstream – for obvious reasons.
Facemasks are now required in a growing number of places – from indoor restaurants to outdoor playgrounds. Unfortunately, however, face masks aren't made equal. Some face masks do little to protect your health or the health of others.
Which facemask is the right choice for you? What's the best face mask of 2020? What's the most effective face mask? Which face mask is the most cost-effective? Today, we're highlighting all of the best face masks available for any needs in 2020.
Ranking the Best Face Masks of 2020
After testing and researching the best face masks available today, our editorial team compiled the following rankings:
Self-Reliance Association R-95 Reusable Face Mask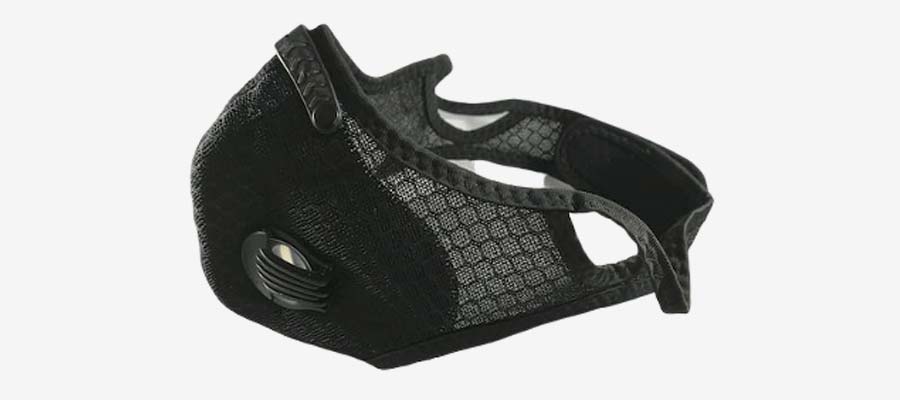 The Self-Reliance Association sells its R-95 Reusable Face Mask online through PatriotProtector.org. The company has some unusual marketing and dramatic claims about its facemask, although it's still one of the best-looking tactical-style masks available today.
The R-95 Reusable Face Mask has one-way exhalation valves for easy exhales and more fresh air. The valves also close while inhaling. The mask is also made from stretchy, breathable material for maximum comfort. And, with comfortable ear loops and a customizable nose piece, it's easy to use this mask to create an airtight seal around your face. Another thing we appreciate about the R-95 Reusable Face Mask is the unusually generous refund policy: the company gives you 364 days to request a refund on the face mask, which is better than any competing mask here.
Price: $50
Invisible Defender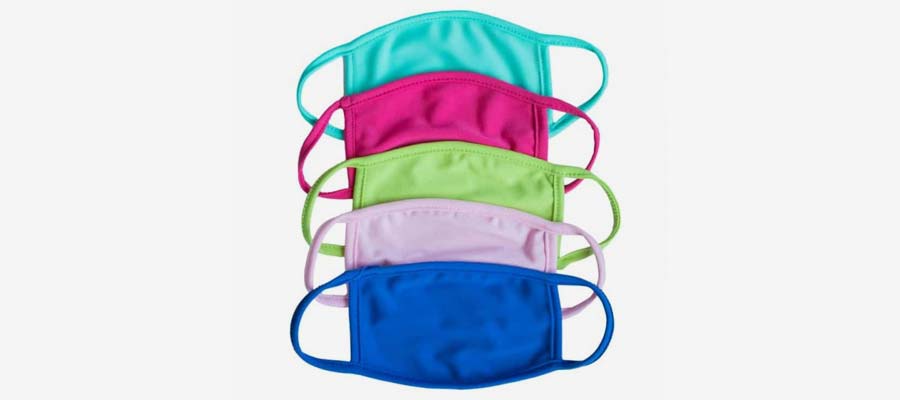 Invisible Defender was founded by a team of medical executives and clothing manufacturers across the United States. The team came together to create a made-in-America mask. Although the company does not produce medical-grade masks, Invisible Defender does create masks that reduce the ejection of droplets in a fashionable way.
The masks are available in multiple colors. You can buy masks for men, women, or children. Whether buying the E1D1, H1D1, UD1, or other Invisible Defender masks, shoppers have options for staying protected during the pandemic.
Price: $5 to $30
Safe Training Mask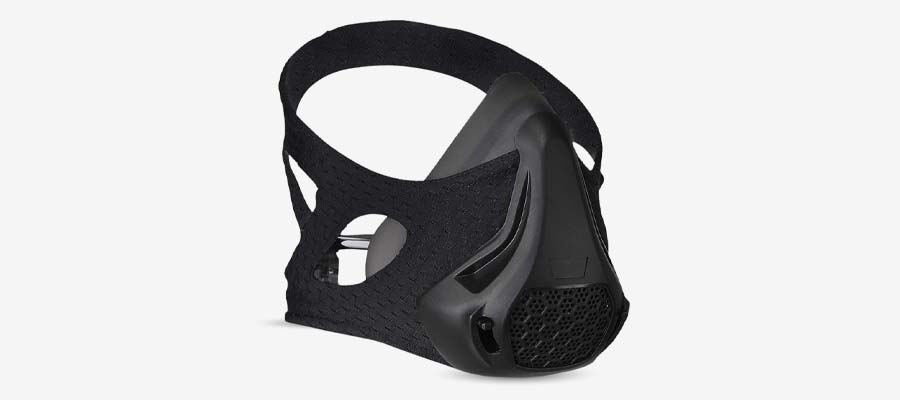 Most of the face masks here are fine for walking or sitting in public. However, they're not designed for use during sports. The Safe Training Mask works differently. The Safe Training Mask is specifically designed to protect its wearer during athletic activities. It has a heavy-duty band that wraps around the back of your hand, keeping the mask securely on your face.
Another nifty feature with the Safe Training Mask is the ability to adjust oxygen supply. In fact, the Safe Training Mask is primarily designed to limit your oxygen supply during use on purpose, helping you train more effectively – similar to breathing trainers used by athletes. The company is also marketing its mask as a protective system for viruses and harmful air particles during the pandemic. At $60, it's one of the most expensive masks here – although some are willing to pay for the added quality and durability.
Price: $60
BetterThanZero Face Mask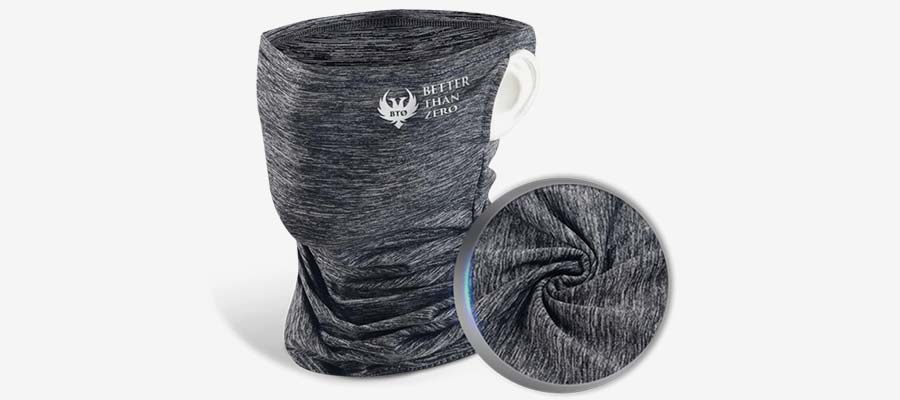 BetterThanZero's Face Mask is a lightweight, multi-functional face mask that claims to reduce dust and debris inhalation while staying breathable. It works differently (and looks different) compared to other face masks here. It's more of a face and neck protector than strictly a facemask. If you wear a neck warmer in the winter, then the BetterThanZero Face Mask will feel similar.
We appreciate the material used in the BetterThanZero Face Mask. It's made from 3D super-elastic polyester material. Plus, you can use the mask for all different purposes. Some people wear it as a half mask, for example, while others wrap it around their entire head and neck. It's a combination of stylish, effective, and customizable.
Price: $50 (2-pack)
AstroAI Reusable Dust Face Mask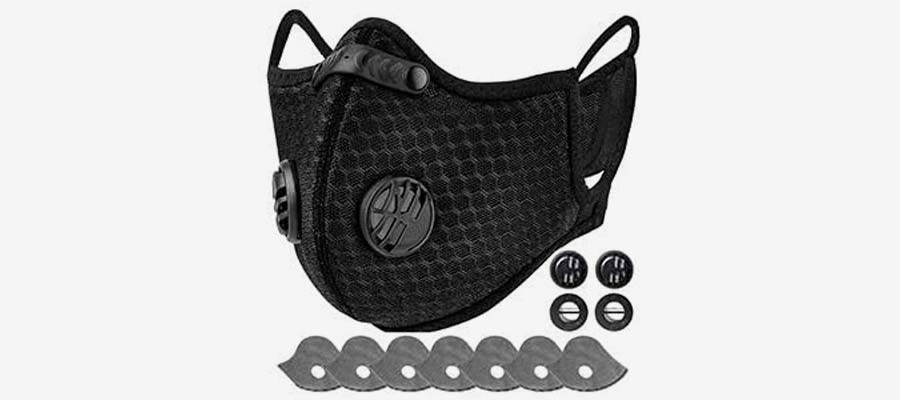 AstroAI's Reusable Dust Face Mask has more filters than any other mask on this list: with 7 layers of filters, it may provide better protection than the average reusable face mask. It also looks more futuristic, providing high-tech protection against both global pandemics and dust.
Despite the 7 layers of activated carbon, the AstroAI Reusable Dust Face Mask contains 4 breathing valves with one-way discharge, making it easier to breathe in and out. The increased ventilation lets heat and moisture escape, preventing your glasses from fogging. A soft nose pad, flexible ear loops, and other features make the AstroAI Reusable Dust Face Mask one of the best facemasks you can buy in 2020. Although it's not cheap, your purchase comes with 7 replacement filters for added protection.
Price: $24
Maxboost Fabric Face Mask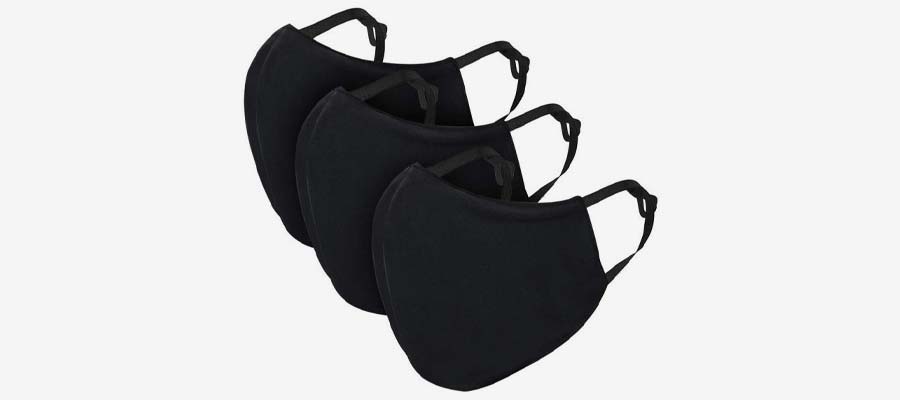 Maxboost's Fabric Face Mask is ideal for those who want a no-nonsense protective facemask at a very affordable price. At $14 for a 3-pack, the Maxboost facemask is one of the more value-minded options on our list. Despite the low price tag, the masks provide more than adequate protection. A 2-layer filter helps reduce the spread of droplets. And, the mask is made from standard 100, OEKO-TEX certified fabric (the same fabric standard used in baby apparel).
With a one size fits all design, snug earloops, and easy-to-clean fabric, the Maxboost Fabric Face Mask is one of the best facemask options you can buy today.
Price: $14
Into The AM Seamless Face Cover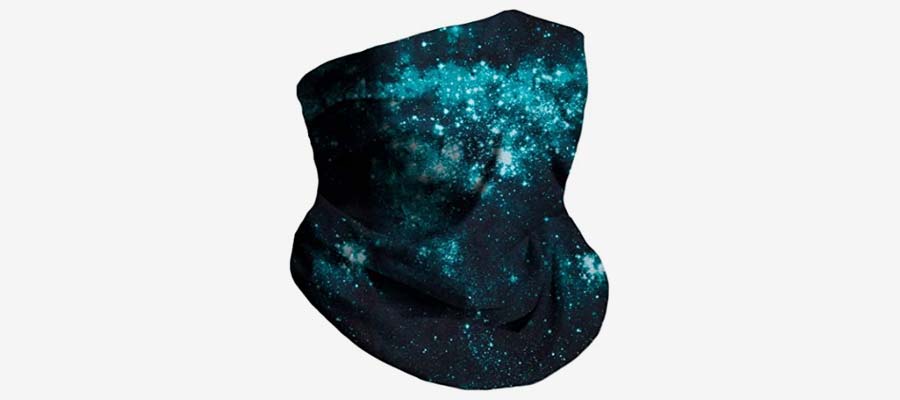 Into The AM's Seamless Face Cover is currently one of the bestselling masks on Amazon. It's advertised as a face mask and neck gaiter – similar to the BetterThanZero Face Mask above. With 6,000+ ratings and an average score of 3.9 out of 5, the Into The AM Seamless Face Cover has more reviews than most Amazon face masks. The microfiber polyester material comes in a one-size-fits-most design.
If you value design over functionality, then the Into The AM Seamless Face Cover may be the right choice. You can choose from dozens of designs at checkout, ranging from colorful flames to tie-dyed and camouflage. It doesn't have the same airtight protection as some of the higher-ranked facemasks on our list, but it manages to provide basic protection for you and the people around you. And, at $12, it's a cheap investment.
Price: $12
Moyabo Unisex Face Scarf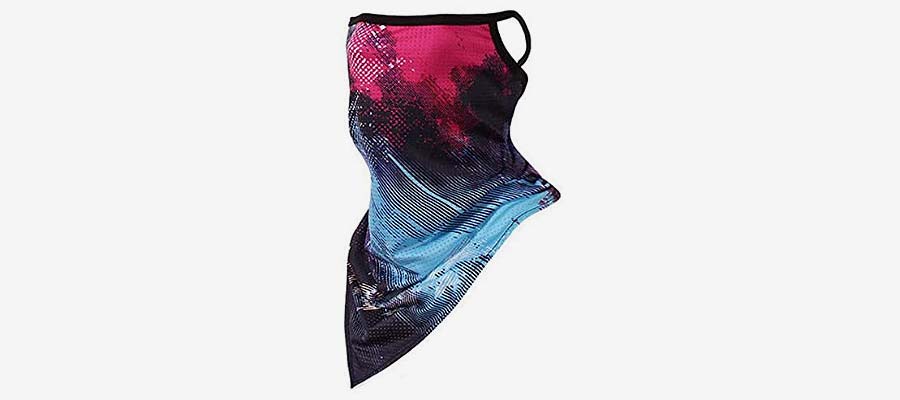 Moyabo's facemask comes with dozens of designs and is priced under $11. It lacks the protectiveness of some of the higher-ranked face masks on our list, although it provides adequate protection for your face and neck without breaking the bank.
And, like the Into The AM facemask above, the Moyabo facemask is ideal for those who want multiple designs and styles. Moyabo offers everything from American flags to camouflage to galaxy-style designs. If you like the design options and you don't want to spend a fortune on a reusable face mask, then Moyabo's banana/neck protector may be the right choice for you.
Price: $11
Golovejoy Facemask & Neck Gaiter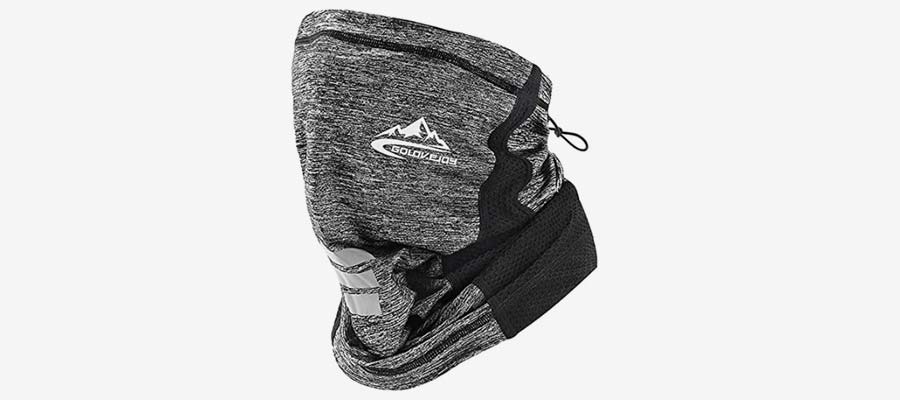 Golovejoy is one of the best-represented facemask brands on Amazon. The company's neck gaiter and facemask provide basic protection from your nose downward. It's available in four basic color options, including black, grey, white, and silver. Made from 100% microfiber polyester, it's surprisingly comfortable. It's also made from quick-drying, breathable fabric.
Golovejoy recommends using their mask for outdoor activities – like hiking, running, climbing, and more. It's designed to wrap securely on your neck and mouth no matter what you're doing. That means you get adequate protection at any time of the day. And, at under $10, the Golovejoy face mask provides some of the best value on this list, beating the other sub-$15 reusable face masks in terms of features and design at this price.
Price: $10
iHeartRaves Seamless Face Mask Cover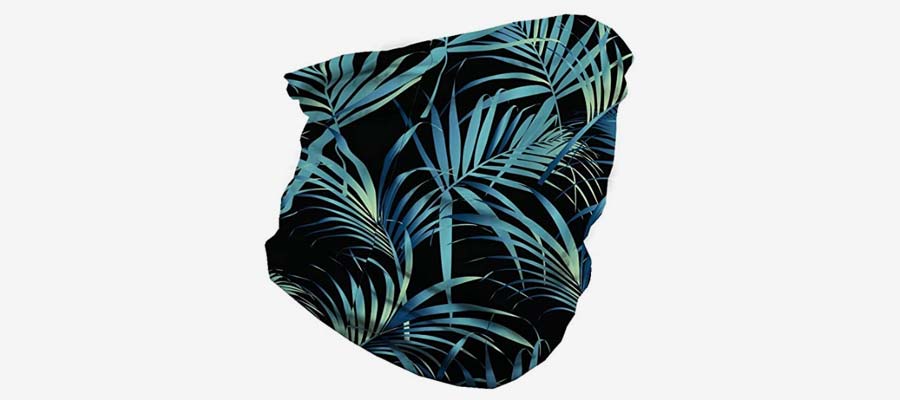 The iHeartRaves Seamless Face Mask Cover is available in dozens of creative designs and is priced under $12. The lightweight neck gaiter is designed to provide basic protection while keeping you cool. You can choose from a range of colorful and unique designs, including everything from Guy Fawkes masks to 'midnight jungle'.
The iHeartRaves facemask is made from 100% microfiber polyester. There are 12+ ways to wear the facemask and neck gaiter. Although it's not as protective as some of the true facemasks on this list, it provides comfortable and basic protection while letting you walk around in style.
Price: $12
Weddingstar Washable Cloth Face Mask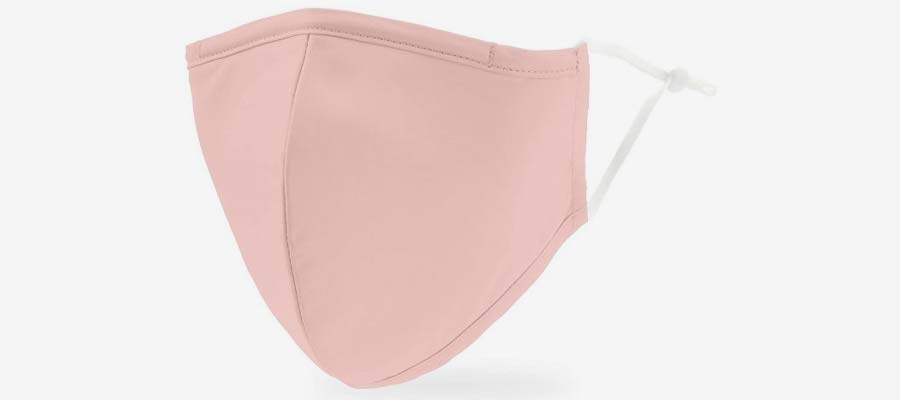 WeddingStar's Washable Cloth Face Mask is a reusable and adjustable mask with a dust filter and dozens of fabric options. You can choose basic colors like black, blue, or pink. Or, you can opt for floral patterns, the stars and stripes, skull designs, and more.
The mask is made from 100% cotton and rayon. You can machine wash it in cold water, then hang it out to dry. Although it's a non-medical mask, it comes with a disposable filter that should be removed after each use. WeddingStar claims their mask provides superior protection against allergens, particles, and pollutants, while the insert sleeve (sold separately) gives the mask PM2.5 filtration.
Price: $10
KellyKessa Unisex Facemask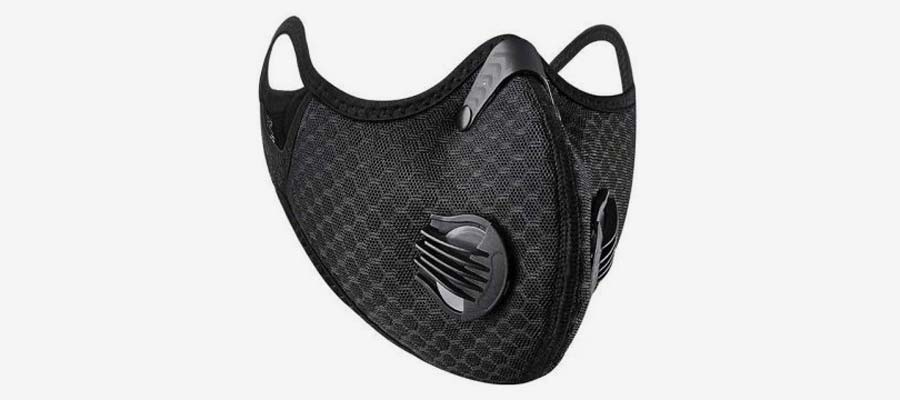 KellyKessa's Unisex Facemask is a popular item on Amazon. The mask is also one of the few on this list to come with an activated carbon filter. Activated carbon is the same stuff found in air filters: the positively-charged carbon attracts negatively-charged particles in the air, trapping them within the carbon's honeycomb shape. KellyKessa uses this same system for their facemask.
Other advanced features include the six different filters, the two air blockers to adjust air filtration, and the ability to wear the mask for outdoor activities. Plus, your purchase comes with multiple disposable air filters to enhance the effectiveness of the mask further.
Price: $30 (2-pack)
Rhinestone Fashionable Face Mask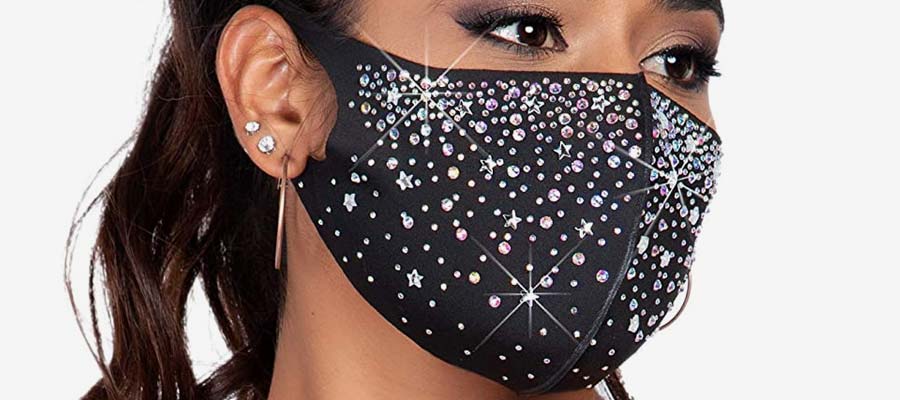 Rhinestone's Fashionable Face Mask is one of the more stylish options here. It's the only mask on our list with rhinestones attached. The rhinestones don't improve the mask's protection in any way, although they do give the mask a unique look. The manufacturer specifically claims the mask is not intended for medical use; instead, it's better for bugs, sand, and dust.
If you want to pass facemask restrictions and look stylish, then the Rhinestone Fashionable Facemask on Amazon may be the right choice. If you want maximum protection, then it may not be the best option. And, at under $15 per mask, it's not the cheapest option here (or the best-rated for protection).
Price: $12 to $15
Tart Collections Face Mask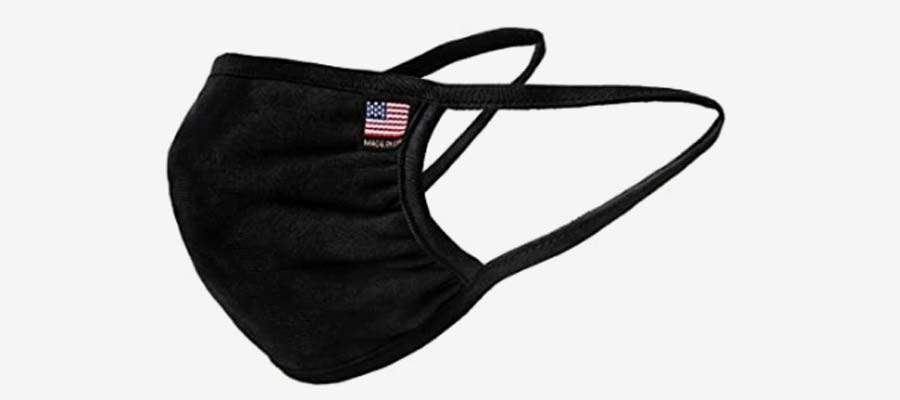 The Tart Collections Face Mask is a comfortable facemask with non-elastic ear loops. Like other reusable face masks here, it's designed to be washed to prevent undesirable particles from building up inside the mask. The mask is available in three basic colors, including black, blue, or white.
The mask has two layers of the cotton inside (facing you) along with an outer shell facing the outside world. You can throw the mask in a standard washer to clean it after use. At $7 to $10 on Amazon, the Tart Collections Face Mask is a popular option that continues to be one of the top-selling facemasks of 2020 on Amazon.
Price: $7 to $10
Feeke Reusable Cotton Cover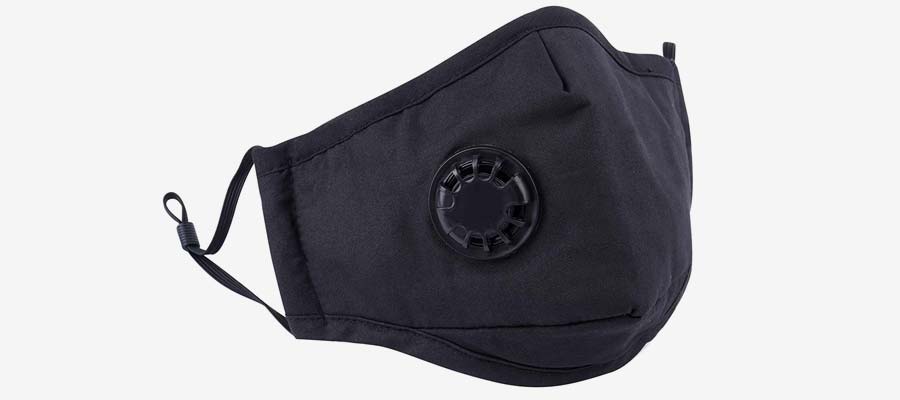 Feeke, like many other companies listed here, is hesitant to market its product as a facemask to avoid any legal issues related to COVID. Feeke is so hesitant, in fact, that they describe their product as a 'cotton cover with breathing valve' and not a facemask. Priced at $20 for a 2-pack, Feeke's Reusable Cotton Cover is a mid-range reusable mask ideal for indoor or outdoor use.
You fit the mask over your mouth and nose using adjustable ear loops, changing the length to suit your face. You hand wash the cotton only and do not take off the breathing valve. Feeke recommends replacing the carbon filter 1 to 2 times per week. Your purchase comes with 4 activated carbon filters. With 600+ reviews on Amazon, Feeke's facemask has garnered attention as one of the better facemask options available today.
Price: $20 (2-pack)
Travleisure Adjustable, Reusable, Washable Bamboo Face Mask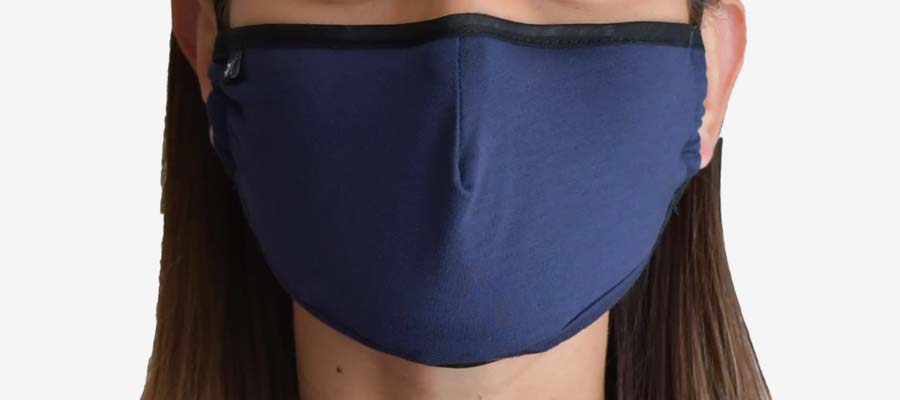 Travleisure's Adjustable, Reusable, Washable Bamboo Face Mask is a straightforward face mask priced at $14 to $16. To justify the high price, Travleisure uses bamboo – not the polyester or cotton seen on other face masks. With a dual-layer of 95% bamboo and 5% spandex, the mask offers breathability while providing extra softness against your face.
You can wash Travleisure's face mask in any standard washing machine on cold settings. Just lay the mask flat to dry. Despite using an eco-friendly bamboo covering, Travleisure claims to provide added protection to prevent the transmission of small particles or droplets.
Price: $14 to $16
PLBAG 5 Pack Facemasks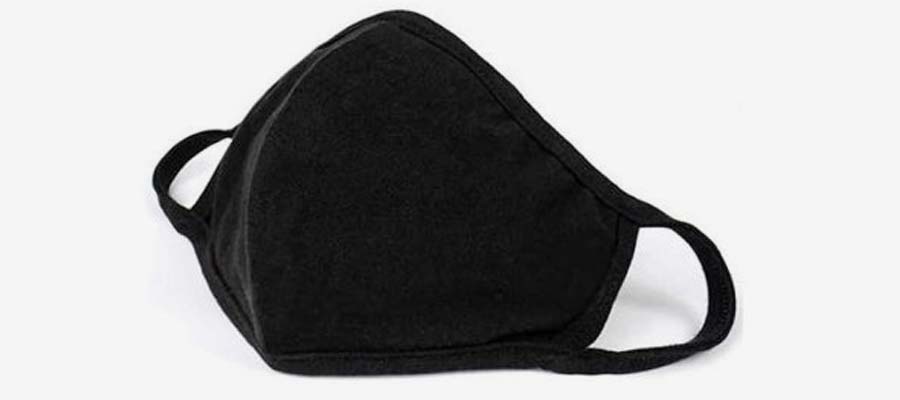 PLBAG makes one of the best-value facemasks on this list, offering a 5-pack of reusable, black cotton facemasks for under $5. With a cheap price tag and a comfortable fabric, the PLBAG face masks provide adequate protection without breaking the bank. A single $4 pack can protect the whole family.
Plus, PLBAG's facemasks are made from flexible, comfortable cotton material that wraps snugly around your ears. You can wear facemasks while cycling, camping, running – or while simply walking around town. Despite the much cheaper price, the PLBAG facemasks seem to provide identical protection to masks further up this list.
Price: $4 (5-pack)
Snoozies Face Masks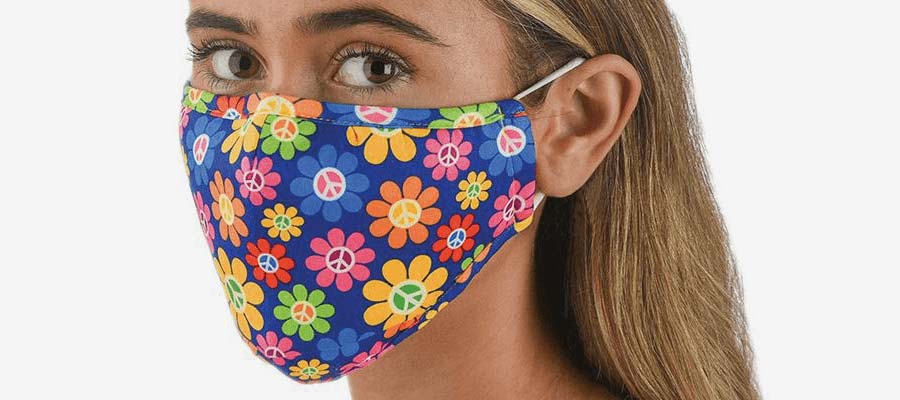 Snoozies Face Masks are stylish and comfortable. They come with adjustable earloops, a resealable pouch, and a pocket for a filter to give your mask added protection. Your purchase comes with 4 disposable filters, although you can buy more online. This is also one of the few cotton facemasks with a flexible nose bridge, allowing you to wrap the mask over your nose.
All Snoozies Face Masks come with 3 layers of cloth fabric and polyester. You can choose from dozens of creative designs, including everything from pawprints to neon lime colors. At $15 for a single mask, the Snoozies Face Mask isn't the cheapest option. However, it provides adequate protection without breaking the bank.
Price: $15
Gildan Reusable 3-Layer Cotton Face Mask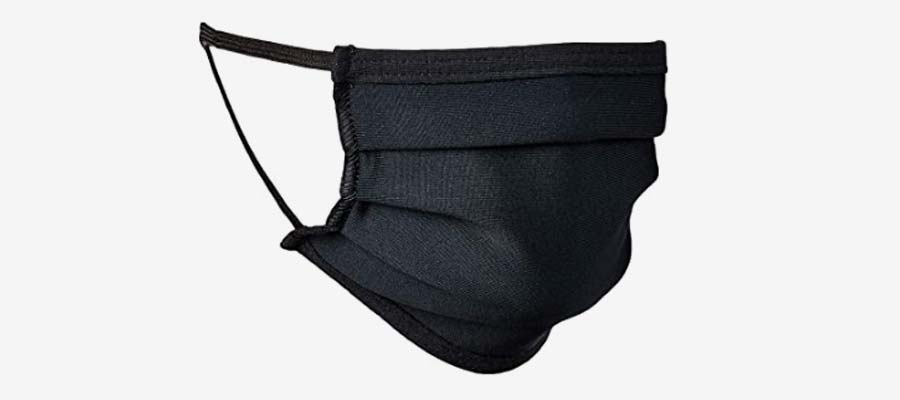 Gildan's Reusable 3-Layer Cotton Face Mask is available exclusively in packs of 24 and 48 through Amazon, so this purchase is better for larger families or businesses. Nevertheless, if you're looking for an affordably-priced reusable face mask in bulk quantities, then the Gildan facemask may be the right choice. It comes with an elastic earloop, a 100% cotton interior, and a 100% polyester exterior, making it virtually identical to some of the higher-ranked facemasks on our list.
You can choose white, black, or grey colors. You can also choose two sizes (standard or large). When worn properly, the mask should protect your mouth, nose, and the top of your neck.
Price: $23 to $48 (24 to 48-pack)
Fashion Cute Heart Face Protection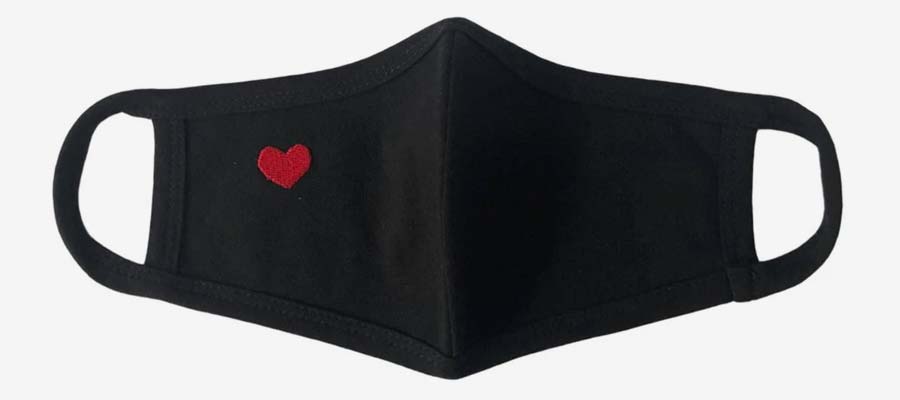 Yiiza's Fashion Cute Heart Face Protection is a unisex cotton dustproof facemask that was originally marketed as a wind protector for outdoor activities – but now functions as an effective protective mask during COVID-19. The mask is washable and reusable, and you can easily fold it for easy transport.
With 4,300+ reviews on Amazon and an average rating of 4.4 stars out of 5, the Yiiza Fashion Cute Heart Face Protection facemask is a popular and well-rated option. It's identical to other black facemasks on this list, although it comes with a distinctive heart in the upper right corner. At $10 for a two-pack, it's a strong-value purchase for anyone.
Price: $10 (2-pack)
ABG Accessories Women's 3-Pack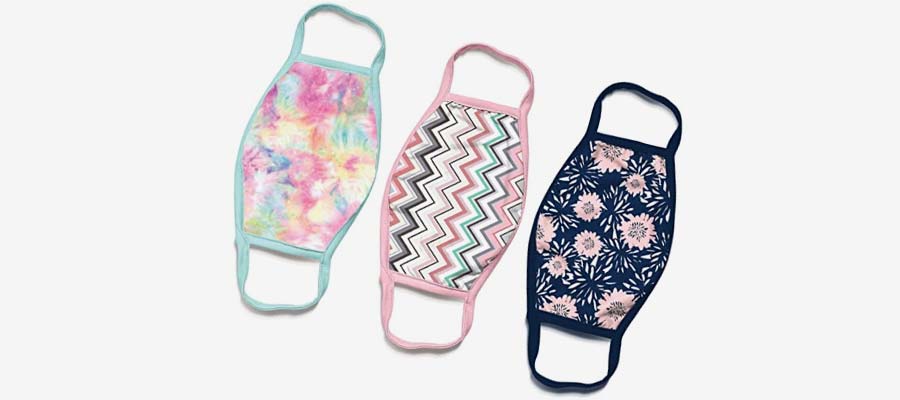 The ABG Accessories Women's 3-Pack is a facemask priced around $4 per mask. Available in multiple unique designs, you can mix and match multiple designs or choose a single design for each 3-pack.
The masks are made from 100% poly microfiber. The manufacturer recommends hand washing the masks. The double-layer mask includes an outer layer of 100% woven poly microfiber, while the inner layer is made from 100% soft cotton jersey. It's designed to be breathable and durable while providing adequate protection.
Price: $13
WesGen 5 Pcs Reusable Cotton Face Mask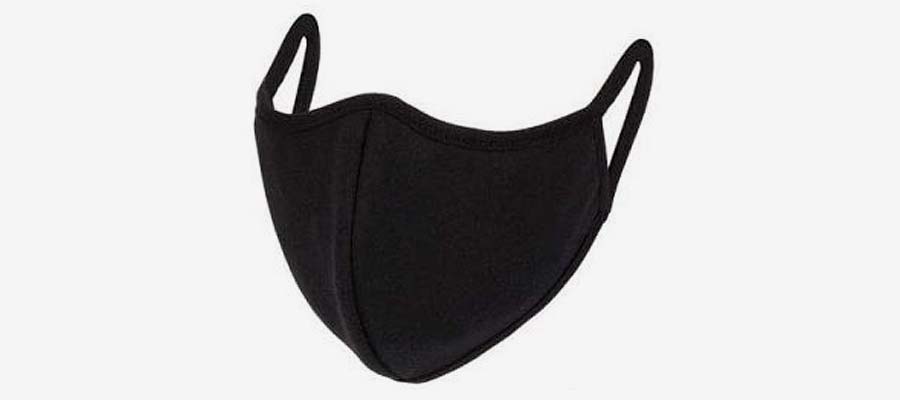 WesGen's 5-pack of reusable cotton face masks covers your mouth while cycling and traveling outdoors. The mask is made from premium, high-quality, cotton material that's breathable and comfortable to wear.
At $17 for a 5-pack, WesGen's facemasks are among the most affordable on our list. They also come in an adjustable, one-size-fits-all design. You should wash the mask before the first use, then machine wash cold after future use. It may not have the advanced filtration systems of some of the higher-rated masks on our list, but the WesGen 5 Pcs Reusable Cotton Face Mask is an ideal option for those looking for good-value masks.
Price: $17 (5-pack)
FAYBOX 6 Pcs Magic Wide Wicking Headbands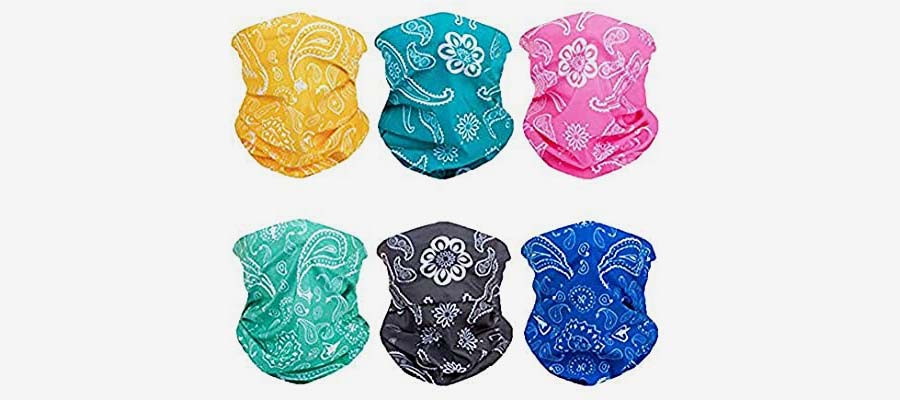 Although marketed as headbands, FAYBOX's bandanas can be worn as masks we well. With 4,700+ reviews an a 4.0-star rating on Amazon, FAYBOX's coverings are among the best-rated facemasks of 2020. And, at $16 for a 6-pack, it won't break the bank. You can choose from multiple styles. Or, you can order all masks in a single style.
FAYBOX's facemasks are made from 100% polyester microfiber material that's lightweight, absorbent, breathable, and able to quickly dry.
Price: $16 (6-pack)
LOLONG Face Bandana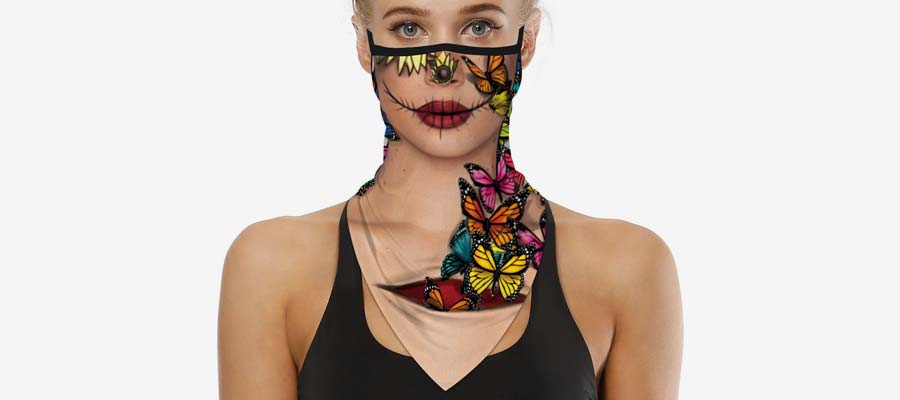 Marketed as a 'face banana' instead of a facemask, LOLONG's option provides several unique designs at an affordable price, ranging from skull fabric to red and blue colors and more. The bandanas cover your nose, mouth, and neck, and you can adjust the bandanas however you like.
At $16 for a single mask, the LOLONG Face Bandana isn't the cheapest option on our list. However, it provides 100% polyester material for protection and has quick-dry technology and moisture-wicking fabric that prevents moisture buildup.
Price: $16
How We Ranked
Our editorial team considered all of the following factors when ranking the best face masks of 2020:
Protection: You're wearing a facemask for protection. It protects you and others around you. That's why protection was the first thing we considered in our rankings. The best facemasks provide effective protection.
Breathability: Some face masks are extremely protective, yet they're not breathable. The best face masks are a combination of breathable and effective.
Value: Some people are willing to pay $100 for a face mask. Most people, however, want good value on their face mask purchase. We featured face masks at all price ranges, although we emphasized good value at every price.
Certifications or Verifications: Is the facemask certified by any third-party organization? Any facemask can make big claims about its effectiveness, yet only the best facemask companies take time to certify or verify their product. We preferred face masks with R95 filters, N95 certification, and similar levels of verification.
Comfort: Some face masks contain comfort straps and similar tools to reduce strain on your ears and face. Other face masks are tight, difficult to adjust, and uncomfortable. We preferred facemasks you could wear for long periods of time without much discomfort.
Washability and Reusability: All of the facemasks above are reusable. However, that doesn't mean they're all easy to wash. Some facemasks have multiple parts that are annoying to remove and wash. Other masks can be tossed in the washer to be safely and quickly cleaned. Some facemasks must be washed by hand.
Design & Style: Aesthetics matter with face masks. Some people care more about style than function. However, most people want their mask to at least look somewhat presentable.
Marketing Claims & Honesty: Some face mask companies make absurd claims about their masks. They're cashing in on the COVID-19 hype. Some companies generate fake hype, claiming their masks are in low supply. Other companies claim their masks offer 100% protection against coronavirus or even cure your disease. Other manufacturers are more honest about their masks and how they work. We appreciate mask manufacturers who make transparent marketing claims and market their product honestly. We don't like mask manufacturers who try to take advantage of a pandemic.
Who Should Wear a Facemask?
Health experts and governments around the world now recommend that most people use facemasks when safely able to do so.
Facemasks have a proven ability to reduce virus transmission by preventing the spread of droplets. Airborne droplets of saliva can spread viruses – including the coronavirus. You expel droplets when you breathe, talk, sneeze, or cough.
Of course, facemasks aren't just about COVID-19: facemasks can also provide an extra layer of defense against dust, pollution, and unpleasant odors.
Some people wear facemasks while doing a home renovation or construction projects. Others wear them when mowing the lawn, painting, or working with chemicals.
Some people wear facemasks because they live in big cities. Others wear facemasks when traveling to polluted areas of the world. Maybe your city has bad air pollution.
Benefits of Facemasks: How Do Facemasks Work?
It's no secret that facemasks reduce virus transmission and provide other benefits. Science is repeatedly emphasizing how effective facemasks can be.
Instead of summarizing every individual study on facemasks, we'll look at this August 2020 review study. Researchers analyzed the effectiveness of low-cost facemasks, including how effective facemasks were for filtering expelled droplets during the speech.
Researchers from Duke University used optical imaging to test different types of masks and mask alternatives. Researchers set up a camera and a light to illuminate droplets of moisture in the air, then asked someone to speak for 10 to 20 seconds and measured the results, using a computer algorithm to track droplets in the air.
Researchers found that fitted N95 masks had the lowest relative droplet count, while surgical masks and polyester/cotton masks had a similarly strong rating.
Knitted masks and bandanas performed poorly in the test. Fleece masks performed the worst in the study, scoring even lower than no mask.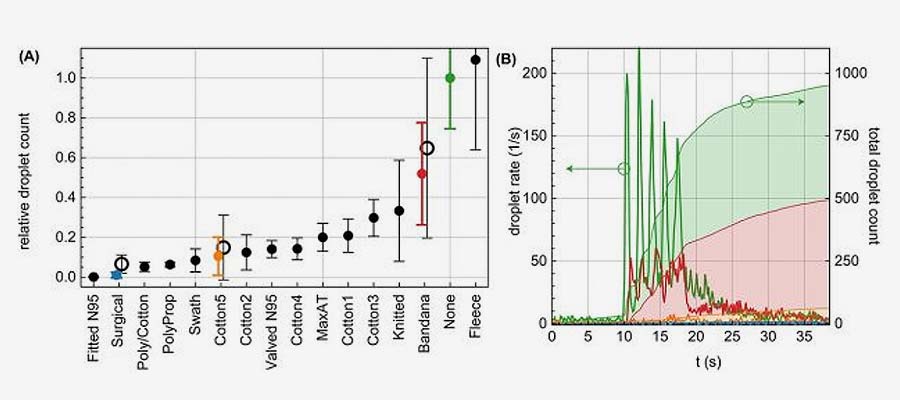 What does this study mean? A fitted N95 mask is the best option and was used as the baseline (0.0) for relative droplet count. However, surgical masks (0.025 relative droplet count) and polyester/cotton masks (0.05) worked well. Other top-rated masks included PolyProp masks, swath masks, Cotton5 masks, Cotton2 masks, valved N95 masks, and cotton 4 masks, all of which scored below a 0.2 relative droplet count).
You can view the full results of the study here.
Many facemask studies come from China, where residents wear facemasks to ward off pollution. In this 2018 study, researchers tested 9 common disposable facemasks that all claimed to offer PM2.5 protection. Researchers found that many commercially available disposable facemasks did not provide adequate protection "primarily due to poor facial fit". Researchers recommended giving more attention to mask design to ensure a snug fit.
Researchers at the University of Illinois at Chicago analyzed dozens of available studies on facemasks and their effectiveness. HEPA masks filtered 99.97% to 100% of particles, while properly fitted N95 masks filtered 95% of particles. Researchers tested masks using particles 0.125 to 0.3 micrometers in size.
However, there are restrictions. N95 masks do not prevent particles smaller than 0.3 micrometers from reaching the wearer's face, and surgical masks aren't effective at blocking particles smaller than 100 micrometers.
Researchers also tested other common mask coverings against particles of 0.02 to 1 micrometer in size, discovering:
N95 respirators blocked particles with 95% efficiency
T-shirts had 10% efficiency, while scarves had 10% to 20% efficiency
Cloth masks had 10% to 30% efficiency, while sweatshirts and towels blocked around 20 to 40% of particles
Importantly, all tested cloth masks and materials had "near-zero efficiencies" at 0.3 micrometers
The Association of American Physicians and Surgeons (AAPS) recommends using masks to prevent the spread of COVID-19 and other respiratory viruses. Most other health authorities have similar recommendations.
Why do masks work? It's simple math: a COVID-19 particle is 0.125 micrometers, while an influenza virus particle is between 0.08 and 0.12 micrometers. A human hair, for perspective, is about 150 micrometers.
Viruses are transmitted between humans by respiratory droplets produced when an infected person coughs, sneezes, or talks. Larger droplets (more than 5 micrometers) generally remain in the air for a short time and only travel short distances before falling to the ground. Smaller droplets (less than 5 micrometers) remain in the air for at least 3 hours and travel long distances. In air conditioned environments, droplets can travel even further, propelled by interior air movements.
Overall, few masks are 100% effective at blocking the tiniest particles. However, every layer of protection you can put between your mouth and the outside world provides some level of filtration. Whether it's an N95 mask, a towel, or a piece of cloth, you can block many particles by putting up barriers.
Reusable Facemask Pricing: How Much Should You Spend?
Facemask pricing has varied widely in 2020. Facemasks spiked during the peak of the pandemic, with manufacturers charging $20 to $50 for a basic reusable face mask.
Today, supply has largely caught up to demand. Prices have returned to normal. You can find reusable facemasks as cheap as $0.80 apiece. You can also find higher-end reusable facemasks for $30 to $50.
Ultimately, you should be able to find an effective, reusable facemask that provides basic protection for $1 to $5.
If you want extra designs, new layers of protection, and other features, then be prepared to spend more than $10.
If you want additional features like breathing trainers, tactical designs, and activated carbon filtration layers, then you can spend up to $50 per mask.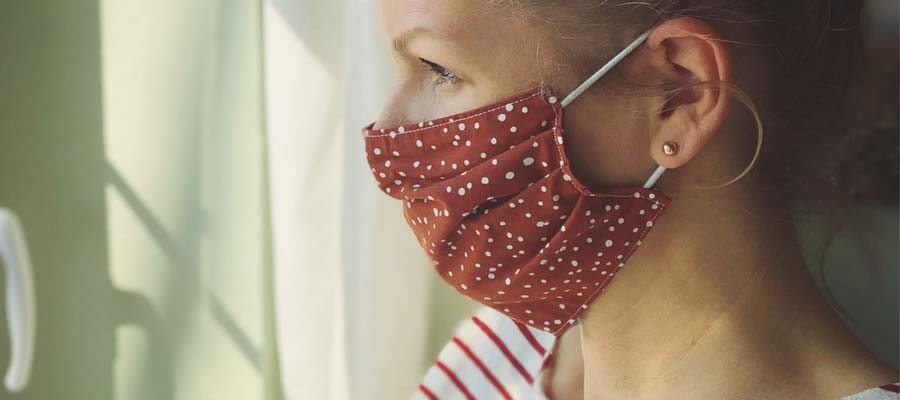 FAQs About Facemasks
Q: How do I properly wear a face mask?
A: A properly-worn face masks should cover your face from the bridge of your nose to under your chin. The mask should be loose-fitting but still secure enough to stay in place. You should be able to talk with the mask on without irritation. The mask should not be so uncomfortable that you are tempted to touch it or pull it out of place.
A: Facemasks help prevent the spread of COVID-19 and other diseases. Experts believe you can spread coronavirus without showing symptoms, which is why it's important to wear a facemask even if healthy.
Q: What does a mask do?
A: A facemask helps contain small droplets that come out of your mouth and/or nose when you talk, sneeze, cough, or sing. A facemask also puts a layer of protection between you and other people. If someone else is not wearing a facemask and speaking to you, then your facemask can reduce the chance of infection.
Q: Do I need to wear a facemask if healthy? What's the point?
A: There's evidence that people can spread coronavirus even without any symptoms. In fact, many tested people show no symptoms whatsoever. That's why wearing a mask is crucial. The CDC claims a significant portion of COVID-19 patients don't show symptoms, and that the virus can spread before these people realize they're sick.
Q: How does COVID-19 spread?
A: Researchers believe COVID-19 mostly spreads through close contact with other people. Some people without symptoms may be able to spread the virus. COVID-19 can also spread through contacting an infected surface, although this is thought to be less common than person-to-person spread.
Q: Why does the six feet distance rule matter?
A: Health experts define 'close contact' as within six feet of another person. When closer than six feet, you can spread aerosolized, virus-containing droplets to another person. Beyond six feet, the droplets are unlikely to reach the other person (they fall to the ground or disperse before hitting the person).
Q: When does someone produce respiratory droplets?
A: You produce respiratory droplets when coughing, sneezing, talking, singing, etc.
Q: Should I wear a facemask or covering in public?
A: Most health authorities recommend wearing a facemask or covering in public. We recommend the following local health authorities and government recommendations.
Q: Do cloth coverings prevent the spread of COVID-19?
A: Cloth coverings can prevent the spread of aerosolized droplets when coughing, speaking, or sneezing. Although cloth coverings aren't generally as effective as N95 masks and surgical masks, they can still provide some protection.
Q: Are cloth facemasks dangerous because of the risk of bacterial or fungal growth?
A: No. You should wash your facemask daily to reduce the buildup of germs. Wash your facemask every day you use it. Avoid touching the front of the mask or your face.
Q: How do we know if facemasks are effective?
A: Before the COVID-19 pandemic, there was limited research on the benefits of facemasks. Today, increasing research shows that facemasks – even basic facemasks – reduce the spread of aerosolized droplets.
Q: Are there health risks of wearing a facemask?
A: For most people, there are no health risks to wearing a facemask.
Q: How do I care for my facemask?
A: Wash your facemask frequently (ideally after each use or once per day). Keep cloth facemasks in a bag or bin until they can be washed with detergent and hot water. Dry your facemask on a hot cycle. If you must re-wear your facemask before washing it, wash your hands immediately after putting it back on and avoid touching your face.
Q: When should I discard a facemask?
A: A good reusable facemask can be used an unlimited number of times (or at least until it wears down). However, you should discard facemasks that no longer cover the nose and mouth, have stretched out or damaged ties or straps, or have holes or tears in the fabric.
Q: Isn't it more dangerous if the virus or other germs get on my face covering?
A: The virus can live on some surfaces for some time, so you should avoid touching the front of your facemask after using it. Put your facemask on using ties or loops and avoid touching the front of the face covering.
Q: What are the different types of face coverings?
A: Common types of face coverings include:
Surgical Mask: Also known as a medical mask, a surgical mask is a loose-fitting disposable mask that filters large particles from the air.
N95 Mask: N95 masks are types of respirators. They provide more protection than a surgical mask because they're weaved in a way that filters large and small particles. Healthcare providers wear N95 masks, and they receive special training on how to wear a mask correctly.
Cloth Masks: Cloth masks are face coverings made of common materials like cotton. Scarves, bandanas, neck gaiters, and homemade coverings are all examples of cloth masks.
Q: My mask keeps moving up towards my eyes. How do I fix this?
A: If your mask frequently moves up towards your eyes, avoid putting your fingers near your eyes to pull it down. Pull-on the bottom of the mask. Wash or sanitize your hands before putting them anywhere near your eyes.
Q: How often should I wash my reusable mask?
A: Most experts recommend washing your facemask as often as possible – ideally after each use. If you cannot wash it after each use, then wash it daily.
Q: How do I wash my reusable mask?
A: Most reusable masks can be washed in an ordinary clothes washer. Alternatively, you can wash it with soap and water. Dry your mask in a clothes dryer on high settings to reduce the presence of germs.
Q: What type of mask should I wear if I have COVID-19?
A: The CDC recommends wearing a cloth face covering to reduce the chance of infecting others with the virus.
Q: How do I know face coverings are effective?
A: Model simulations using data from New York and Washington suggest that the broad use of face coverings can significantly reduce community transmission of COVID-19, decreasing the number of hospitalizations and deaths. States that have passed facemask mandates have noticed significant drops in COVID-19 cases. Health authorities estimate that facemask usage prevented 230,000 to 450,000 deaths across the United States alone.
Final Word: Facemasks Protect You and Other People
Ultimately, facemasks protect you and the people around you. They have a proven ability to reduce the spread of aerosolized droplets, making it less likely for an infected person to infect others.
If you need a facemask, consider one of our top-rated facemasks above to give yourself the best protection in 2020.