The plant-based meat trend is certainly catching on in 2020 thanks to Impossible Burger and now the new non-pig plant-based meat substitute is coming in the form of Impossible Pork and Impossible Sausage.
Impossible Pork: Everything to Know About the New Plant-Based Fake Meat Substitute
You've heard of the Impossible Burger. But are you ready for Impossible Pork? At CES 2020 in Las Vegas, Impossible Foods unveiled its newest plant-based meat substitute called Impossible Pork.
The man-made pork substitute is designed to sizzle, taste, and smell like real pork. It's also built for kosher and halal certification. It can be used in any recipe that calls for ground pork.
Veggie-friendly substitutes are rising in popularity. Impossible Foods and its main competitor, Beyond Meat, continue to disrupt the "foodtech" space amidst rising symptoms of climate change.
A recent report by the Food and Agriculture Organization (FAO) of the United Nations found that 14.5% of all greenhouse gas emissions worldwide are caused by livestock. Last summer, huge swaths of the Amazon rainforest were burned to create land for farming and ranching.
Amidst this backdrop, companies like Impossible Foods and Beyond Meat bring promises of a more sustainable future. Veggie-based meat substitutes claim to have a smaller environmental footprint. They're more sustainable foods for a more sustainable future.
After releasing its Impossible Burger 2.0 last year, Impossible Foods plans to release its newest product, Impossible Sausage, in five test cities later this month. That plant-based meat substitute first appeared last year in select Little Caesars and Burger King locations across the United States.
However, it's unclear when Impossible Foods will launch Impossible Pork.
Impossible Foods launched its Impossible Burger 2.0 at CES 2019, and that product is now available at 7,000+ Burger King locations across the United States. It's also served in restaurants in Hong Kong, Singapore, Macau, and the United States, and in dozens of grocery stores worldwide. The plant-based meat substitute offers a similar flavor and texture to beef but is made entirely from plant products.
Impossible Foods claims you can expect a similar experience from its new Impossible Pork and Impossible Sausage products.
What Does Impossible Pork Taste Like?
Impossible Foods is giving away taste testers of Impossible Pork at CES 2020 in a number of different forms.
Here's what some of the internet's biggest publications (and Impossible Foods themselves) have had to say about the flavor of the veggie-based pork substitute:
CNET
"Our CNET editors had a chance to help prepare Impossible Pork dishes prior to CES and reported that the plant-based ground meat looked, smelled and cooked up like pork, with a mouthfeel you'd expect with that meat. It conveys meatiness, characteristic chew, bounciness and a savory flavor that tastes distinct from chicken." – CNET.
Gizmodo
"I should make it immediately clear that my first taste of Impossible Pork was prepared by a professional chef at a fancy casino. There were shumai and a curious take on a banh mi, and both were terrific. The fake-pork shumai, I thought at the time, tasted better than real pork shumai. The flavor was just as rich, but the Impossible Pork wasn't as greasy as their real meat equivalents. Meanwhile, the banh mi didn't quite taste like the trendy sandwich I'm used to but rather something new and different (and still loaded with cilantro)." – Gizmodo.
Geek Wire
"The first few bites were awesome — and surprising. Juicy and flavorful is not what I expect from fake meat. It was almost like actual pork, but felt about 90 percent "real." Something was missing, but not much." – Taylor Soper (Managing Editor) from Geek Wire.
Impossible Foods
"[Impossible Pork] is characterized by its mild savory flavor, adding delicate depth and umami richness without being gamey or overpowering." – Impossible Foods.
What Are the Impossible Pork Ingredients?
Impossible Foods has not yet fully disclosed what's inside its Impossible Pork. However, we know a few of the key ingredients.
Impossible Pork mostly consists of the same stuff that's in the Impossible Burger: soy. Fatty oils like sunflower oil and coconut oil serve as the main fat sources.
Holding all of these ingredients together are various binders. For flavor and aroma, Impossible Foods has added heme, which they claim is the molecule that gives beef its meaty taste and smell when cooked.
Just like with the Impossible Burger, Impossible Foods has modified a type of yeast to make the heme from soybean leghemoglobin, which is an oxygen carrier found in legumes.
Why Do We Need Impossible Pork? Who is Impossible Pork For?
Impossible Pork feels like the logical next step for plant-based meat substitutes. We've had the Impossible Burger, now we have Impossible Pork that can be used to make Impossible Sausage and other plant-based pork substitutes.
Chicken continues to be the most popular choice of meat in the United States. Worldwide, however, pigs are the preferred choice of meat overall.
Pork is particularly popular in China. In fact, China consumes more than half of the world's pigs every year, making it a tempting market for companies like Impossible Foods.
Making plant-based pork substitutes even more enticing for companies like Impossible Foods is that the Chinese pork industry has been rattled in recent years by an outbreak of African Swine Fever. The fever is harmless to people but lethal to pigs. As NPR reported in 2019, the fever recently killed 300 to 350 million pigs in China, which is almost one quarter of the world's pork supply.
The pork product is also designed to be kosher and halal, which allows those with religious restrictions to consume "pork"-containing foods they would otherwise be unable to consume – like a pulled "pork" sandwich or breakfast "sausage".
Is Impossible Pork Healthier than Real Pork?
The Impossible Burger and other plant-based meat substitutes have been celebrated for their low environmental impact. Health authorities, however, are quick to point out that plant-based meat substitutes aren't necessarily healthier than their animal-based counterparts.
The problem comes down to processing. Conventional nutritional wisdom tells us that whole foods are generally better than processed foods, and products like Impossible Pork need to be heavily processed before arriving on your plate.
"Meatless burgers are heavily processed and high in saturated fat," explained a Harvard Medical School contributor in a writeup on meatless burgers.
"Since diets higher in saturated fat are associated with increased rates of both heart disease and premature death, they may not be the type to opt for if your ambitions are purely health-related. They are also a significant source of sodium, particularly for those on salt-restricted diets."
The heavy processing can also reduce the nutritional value of any ingredients inside the product:
"Even though legumes are sourced for protein in the branded meatless options, their health benefits are somewhat blunted by the high degree of processing involved."
From a nutritional standpoint, Impossible Pork and real pork have some surprising similarities – but also some crucial differences. Here's how the nutritional labels compare, according to CNET: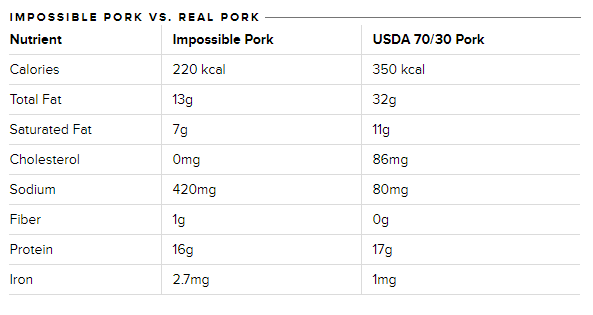 Impossible Pork Pricing
Impossible Foods has not yet revealed pricing information for Impossible Pork or Impossible Sausage.
However, a 12-ounce package of raw Impossible Burger is priced at $8.99 in stores.
Impossible Pork Release Date
Impossible Foods has announced that Impossible Sausage will be launched in five test cities by the end of January 2020, including Savannah, Georgia; Lansing, Michigan; Springfield, Illinois; Albuquerque, New Mexico; and Montgomery, Alabama.
However, we have no further information on when Impossible Pork will launch nationwide.
The company had a tough rollout of the Impossible Burger 2.0 and there were shortages nationwide. We'll see if Impossible Foods learned from its mistakes.
What is Impossible Sausage?
Impossible Sausage is a pre-seasoned sausage product made by Impossible Foods.
We first heard about Impossible Sausage in spring 2019 when Impossible Foods partnered with Little Caesars to offer the Impossible Sausage pizza, although the pizza was only available at a few dozen restaurants in the western United States.
However, impossible Foods plans to continue its nationwide rollout by partnering with other restaurant chains. Starting in January 2020, Impossible Foods will partner with Burger King to test the Impossible Croissan'wich, which adds an Impossible Sausage patty to a toasted croissant with egg and cheese. That product will launch in five test regions.
It's not the first time Impossible Foods has partnered with Burger King: last year, the two companies teamed up to launch the impossible Whopper, which substituted a meat-based patty for an Impossible Burger.
What's Next for Impossible Foods?
It appears 2020 will be the year of Impossible Pork and Impossible Sausage for Impossible Foods. Although the company revealed its newest plant-based pork substitute at CES 2020, the product seems a long way away from grocery store shelves and restaurants.
Stay tuned for more information about the Impossible Pork release date and price.