Keto XP is a metabolic ketosis support supplement rich in Beta-hydroxybutyrate that claims to help keto diet consumers with advanced weight loss due to the BHB Ketones for burning stubborn fat, suppressing appetite, enhancing focused energy and acting as a 'ketosis booster'. But online trends try to make a connection between Keto XP and Shark Tank? What Gives.
Keto XP: Shark Tank Marketed Diet Pill Saga Wages On
Keto XP is a diet pill that claims to offer advanced weight loss using BHB ketones.
The keto diet pill, found at TryKetoXP.com, is marketed online with bold statements and strong claims about its effectiveness to burn fat and lose weight. One person purportedly lost 30 pounds in one month without exercise by taking the diet pill. Another person claims that every judge on Shark Tank backed the product – even though Keto XP has never appeared on Shark Tank.
This (non)-connection between Shark Tank and Keto XP is what prompted TheHealthRadar team to review the KetoXP weight loss supplement. Earlier in 2020, our research staff uncovered other Shark Tank Keto diet pill claims, in which the debunking process was secured. And still today, in the summer of 2020, there has still never been a Keto diet pill featured on Shark Tank or endorsed by any judge on the TV show. The following Keto XP review will break down the weight loss claims and ketosis supplement benefits, but it will also reveal the inner workings of how these falsified Shark Tank KetoXP endorsements work so consumers can better understanding the sly tactics being deployed to sell keto weight loss pills.
But is Keto XP a scam? Can you actually lose a pound a day or 30 pounds in 1 month without exercise by taking a ketogenic diet-friendly diet pill? Today, we're explaining everything there is to know about Keto XP and how the non-Shark Tank endorsed weight loss diet pill supplement proclaims to work.
What is Keto XP?
Keto XP is a diet pill that claims to offer revolutionary weight loss results. By taking Keto XP daily, you can purportedly flood your body with a mighty fat burning ketone called beta-hydroxybutyrate (BHB).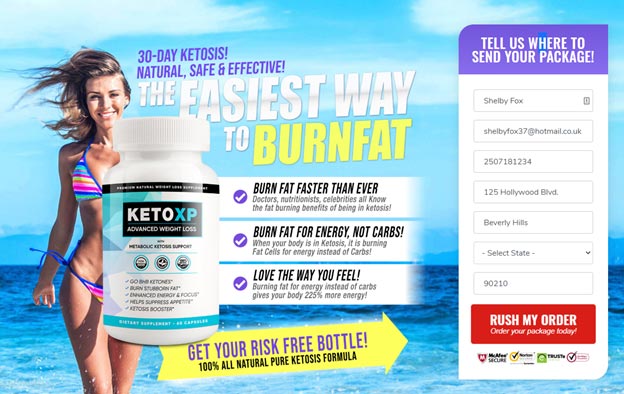 BHB ketones are trendy weight loss ingredients found in dozens of popular supplements. Some claim that BHB ketones kickstart your body's fat burning. They force your body to enter ketosis, helping you lose weight quickly.
The makers of Keto XP claim their supplement "burns fat faster than ever," helping your body burn fat for energy – not carbs. It's like forcing your body onto the keto diet even if you're not following a strict keto diet. Some studies show that BHB ketones can kickstart fat burning and lead to real weight loss results, while other studies are less definitive.
What is Keto BHB (Beta-Hydroxybutyrate Ketones)?
Keto diets are one of the trendiest eating regimens on the market today, requiring consumers to eat a diet that is high in fat and low in carbohydrates. The idea is that the body will no longer rely on carbohydrates as a way to gain energy, instead of using the high amount of fat as a source. While this diet can take some time to adjust to, many of the people who follow it will report more energy and successful weight loss.
To enhance results, the supplement industry has been the home of many new formulas that help ketosis to start in the body. By speeding up the adjustment, consumers can lose weight faster, which is how Keto XP entered the market, stating that the use of fat instead gives the average user 225% more energy.
The website for Keto XP makes a lot of big claims about the way that their 30-day regimen works, first stating that it helps to burn fat at a faster rate than naturally inducing ketosis alone. Highlighting the effectiveness of ketosis, the company sheds light on exactly how Keto XP is effective – BHB.
How do Keto BHB Supplements work?
BHB, or beta-hydroxybutyrate, is a fat-burning ketone that is created and released by the liver, and it is responsible for over 75% of the ketones present in the blood. BHB is primarily used for the production of energy for the body, acting as fuel for the brand and reducing inflammation. It has many cognitive benefits, but it also helps to balance the body.
When the transition is happening from regular digestion to ketosis, the body can become lethargic, mentally fatigued, and even experience cramping. All the possible side effects commonly referred to as the "keto flu," but the introduction of more BHB into the body can reduce the risk of this issue.
Keto XP, like most other keto supplements, contains BHB to help get through the initial "flu" with relative ease, making it possible for the body to move on to burning fat. The use of BHB for keto-based weight loss has been a consistent trend, and it is backed by many studies.
Keto XP and Deceptive Marketing
Keto XP appears similar to other diet pills but with one significant difference: the diet pill is marketed online by wild claims.
Some of these claims may be spread by the official Keto XP manufacturer on the product sales page. Most claims are likely spread by affiliates to increase conversions. Here is a screenshot of fake icons and logos to give a sense of security but all seem to be pre-made fluff pieces to sell Keto XP by independent reps.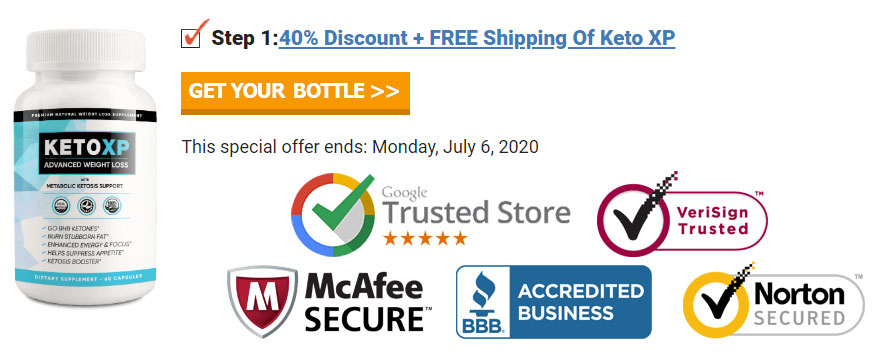 Other wild, obviously untrue claims we've seen with Keto XP include:
The diet pill appeared on Shark Tank, where it received an investment from all judges and became "the most-watched episode in Shark Tank history"
The diet pill can help you lose 28+ pounds in 4 weeks
The diet pill appeared on Fox News, where it was described as a product that is "taking on obesity and winning"
Celebrities like Wendy Williams, Drew Carey, and Jennifer Hudson all used Keto XP for weight loss results
You can lose 1 pound of fat per day by taking Keto XP
Keto XP and Shark Tank
In one new marketing campaign, a Keto XP affiliate claims the product was featured on Shark Tank, where sisters Anna and Samantha Martin won over the Shark Tank panel, receiving investments from all Sharks and becoming the most-watched episode in Shark Tank history.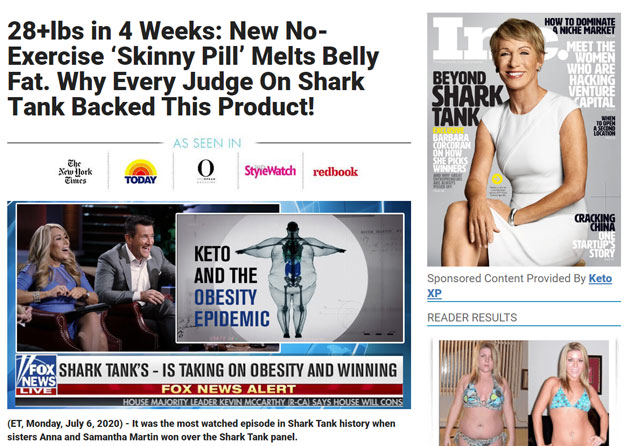 In reality, Keto XP has never appeared on Shark Tank. If you find an affiliate who claims the diet pill was featured on Shark Tank, then you are being scammed.
Other fictitious claims made on the Shark Tank Keto XP sales page include:
The Shark Tank episode with Keto XP became the most-watched episode in Shark Tank history
The Keto XP diet pill was made by sisters Anna and Samantha Martin
For the first time in Shark Tank history, each Shark decided to invest millions of dollars into a company, collectively purchasing a 25% share
The sisters were the first in show history to receive a standing ovation and offers of investment from all panel members
Shark Barbara Corcoran purportedly claimed that "Keto XP is revolutionizing weight loss medicine"
All of these claims are completely untrue. Keto XP has never appeared on Shark Tank. In fact, no diet pill has ever appeared on Shark Tank – despite what affiliates might tell you online. Barbara Corcoran has never endorsed Keto XP, nor has any other Shark. Nobody has invested millions of dollars into Keto XP, and sisters Anna and Samantha Martin do not exist.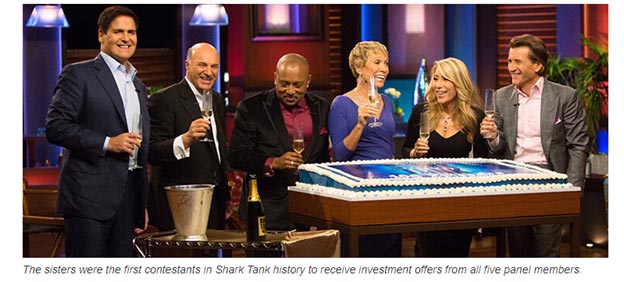 Celebrity Endorsements for Keto XP
Keto XP is also marketed online with celebrity endorsements. The same Shark Tank sales page mentioned above, for example, claims that several celebrities have used Keto XP to achieve significant weight loss results.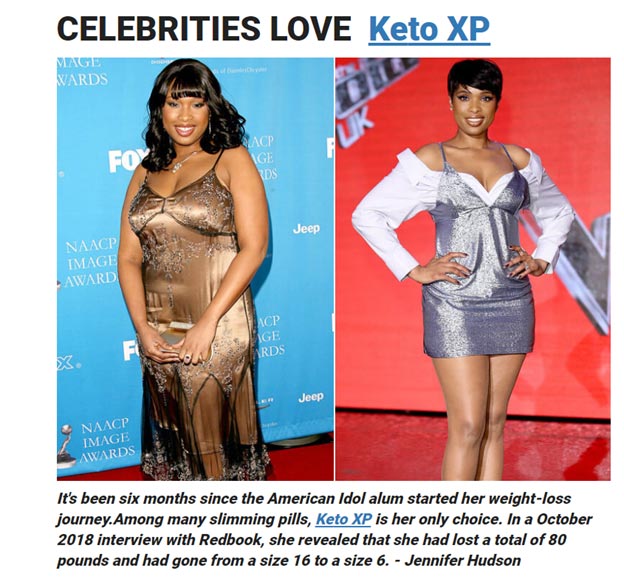 Celebrities that purportedly used KetoXP to lose weight include:
American Idol alumnus Jennifer Hudson, who purportedly lose 80 pounds and went from a size 16 to a size 6 using Keto XP
Wendy Williams, who described Keto XP as "the best thing I've ever done"
Drew Carey, who likes Keto XP because he doesn't "have a lot of time to devote to workout routines", and "taking just one per day helped" him get his body to a place where he felt comfortable
All of these celebrity endorsements are fake. No celebrity has publicly supported Keto XP. All three of the celebrities above lost weight in well-publicized weight loss campaigns, which is why there are before-and-after shots of each celebrity. However, none of them used KetoXP – or even the keto diet – to lose weight.
How Does Keto XP Work?
Keto XP is advertised online with wild claims about its weight loss effectiveness. The diet pill purportedly works without dieting or exercise. Just take the pill daily to support weight loss results. That's it.
Here's how Keto XP purportedly works:
Controls Appetite: Keto XP claims to "stimulate the production of enzymes that suppress cravings for some specific types of foods". It also claims to work similar to an antidepressant, boosting serotonin to prevent emotional overeating. There's no evidence that any ingredients in Keto XP have this effect.
Prevents the Formation of Fat: Keto XP claims to suppress the ability of the liver to convert energy into fat. That means any foods you eat will be converted into muscle instead of fat. Again, there's no evidence that any ingredient in Keto XP has this effect.
Boosts Wellbeing: Keto XP claims to relieve stress and depression. "The BHB extract has compounds that lift your mood and improve your general wellbeing, reducing the likelihood of you slipping into stress and crash feeding tendencies," according to the affiliate website.
Keto XP Ingredients
Keto XP contains beta-hydroxybutyrate (BHB) ketones. However, the company does not disclose the full list of ingredients inside the formula.
Typically, reputable supplements want to advertise their ingredients and dosages. With Keto XP, the company appears to be deliberately hiding its ingredients and dosages.
Keto XP Pricing
Keto XP is available online through TryKetoXP.com, where it's priced at $40 to $70 per bottle, depending on how many bottles you order: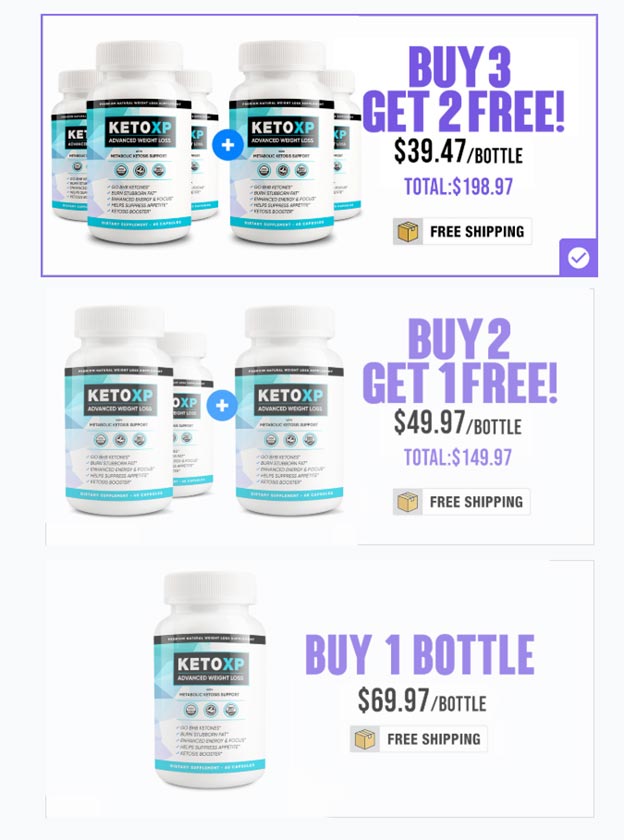 1 Bottle: $69.97 (Buy 1 bottle at $69.97 includes free shipping)
3 Bottles: $149.97 (Buy 2 get 1 free at $49.97 per bottle – total $149.97 includes free shipping)
5 Bottles: $198.97 (Buy 3 get 2 free at $39.47 per bottle – total $198.97 includes free shipping)
All prices include shipping. You can pay online via any credit card. For individuals that want to take part in the 30-day regimen, again the total cost of one bottle is $69.97 (with free shipping). If customers want to extend the Keto XP further, there's also a three-bottle package ($149.97) and a five-bottle package ($198.97), which both come with free shipping as well.
There is also no sign of a Keto XP free trial option of their BHB-weight loss supplement. For those who have been slammed with keto diet pills, know how tough it is to cancel free keto BHB supplement trial offers where the bait and hook switch of giving a sample as a try before you buy concept is not always the best route to take. Thankfully, despite the nefarious Keto XP diet pill marketing tactics of relying on fake celebrity endorsements or fraudulent Shark Tank TV episode claims, at least there is no option to automatically ding your credit card monthly. It is unclear whether or not the Keto XP supplement is available on auto-monthly billing cycles at all, or whether buyers have the option through the checkout process.
Keto XP Refund Policy
Keto XP has a 30-day refund policy. You can contact the company within 30 days for a complete refund. Shipping fees appear to be non-refundable. All orders will ship within 24 hours and will arrive within 3-5 business days. For customers who wish to return Keto XP for a refund will need to contact customer service to obtain a Return Merchandise Authorization or (RMA) before shipping the product back to the company at their toll-free number +1 855-207-2283.
Who's Behind Keto XP?
The makers of Keto XP provide limited information about themselves online. We don't know who's running the company, where the supplement is made, or where the ingredients are sourced. It's unclear if the manufacturer has any medical or nutritional certifications.
Overall, there's limited transparency about any aspect of Keto XP.
You can contact the makers of Keto XP via the following:
Is Keto XP a Scam?
Keto XP is a legitimate nutritional supplement. The supplement appears to legitimately contain BHB ketones and similar ingredients. You can buy the supplement online, pay the advertised price, and receive a bottle of the supplement in your mailbox. These parts are not a scam.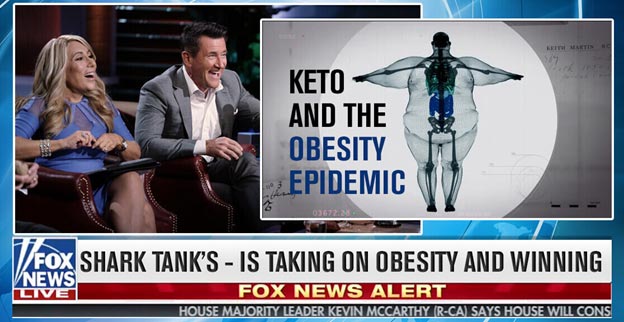 What is a scam is the marketing. The company has shady marketing even by diet pill standards. The company (or its affiliates) have invented fictitious stories about Shark Tank, created fake celebrity testimonials, and advertised insanely unrealistic weight loss claims, among other serious issues. The sales page for Keto XP contains images of celebrities, doctored images of Fox News reports, and other breakdowns.
Keto XP may not technically be a scam, although the marketing is extremely deceptive.
Frequently Asked Questions About Keto XP
Here is a helpful resource to guide consumers through the waters of deciphering whether or not Keto XP diet pill is right for them:
What does Keto XP do for users?
Keto XP claims to help consumers start a process that's known as ketosis for their digestive system. This remedy introduces BHB to the user's system, as it targets weight loss quickly. To date, no clinical studies or data are made available about the effectiveness of Keto XP for ketosis health benefits.
What benefits will consumers have with the use of Keto XP?
The most obvious promoted benefit of using this supplement is the fat burning energy switch that activates weight loss, as it is the entire purpose for formulating it. Ketosis can target weight throughout the body, and using a supplement helps ketosis happens much faster than waiting for the body to adjust to the loss of carbohydrates. With extra BHB inside, users will improve their brain health while recovering quickly after exercise routines.
Will Keto XP make users jittery?
No, it should not according to the official Keto XP website. Unlike the effects of sugar and other carbohydrates, ketosis won't cause a massive jitter or crash. Fat acts as a steady source of energy, rather than causing blood sugar to spike and drop, which means that they won't have any uncomfortable jitteriness.
How much weight can users expect to lose?
The creators of Keto XP with BHB state that up to 1 pound of fat loss per day is possible. Any smart consumer will know results will vary, if at all, despite the world being in a frenzy about the keto diet benefits along with the ketosis body status and BHB health effects.
What happens when carbohydrates enter the body?
When consumers have too many carbohydrates in their food, the body burns through them for fat. However, with too many carbs, weight gain occurs, and accumulates. Since carbohydrates can make consumers tired and drained, they aren't considered to be the best way to keep up energy levels.
Why is ketosis effective?
Ketosis is a natural state that the body enters without carbs to digest. Instead, it burns fat for energy, which means that consumers have to burn what is stored for energy, and they aren't adding to their weight with carbohydrates. By using Keto XP, the body can enter ketosis faster, wasting no time on weight loss.
Do users of Keto XP need to exercise?
Not necessarily. Exercise can be helpful to nearly any weight loss regimen, but there is no mention of requiring exercise for the supplement to work. Still, since the user is only shedding weight with this supplement, they may want to work out to promote better muscle tone.
For other product questions or product concerns, customers can contact the company by phone Monday-Friday, 9 am-5 pm, and Saturday-Sunday, 9 am-6 pm EST toll-free at +1 855-207-2283. Or by email at; Contact Support: support@tryketoxp.com
Final Word
Keto XP is a diet pill that claims to cause 30 pounds of weight loss in 30 days. The supplement is priced at $40 to $70 and claims to cause significant weight loss results without dieting or exercise. The Keto XP weight loss supplement is meant to activate the body into ketosis for optimal weight loss. The KetoXP formula has been modified and introduces BHB ( Beta-hydroxybutyrate ) to the body to beat the sluggishness and mental fatigue that consumers typically experience while the body adjusts to ketosis. Per the official website,
"Ketosis is extremely hard to obtain on your own and takes weeks to accomplish. Keto XP actually helps your body achieve ketosis fast and helps you burn fat for energy instead of carbs!"
There's some evidence that BHB ketones induce ketosis and help with weight loss, although they're far from proven. Since Keto XP does not disclose its ingredients upfront, it's impossible to determine whether or not the supplement works as advertised.
You can find plenty of similar supplements on Amazon for under $30 per bottle, including supplements with more transparent ingredients and more honest marketing. There doesn't seem to be any reason to buy KetoXP.
Keto XP may help consumers to get into their weight loss mode more effectively than just trying to eliminate the carbs from their diet. Though Keto XP users are supplied with enough capsules for 30 days of use, they can continue this regimen for longer if they are still trying to shed the weight. Consumers who may have concerns about using Keto XP should consult with their healthcare physician before consuming the product. With no need for exercise and only making changes to the types of food that users eat, this formula aims to make weight loss more attainable for the average person.
Given the popularity of the Keto XP weight loss diet pill supplement, and the use of Shark Tank KetoXP marketing material, this Keto XP review felt necessary to compile. As a follow up to a few other similar-natured news pieces on the matter, it seems Keto XP is next in line as the grandiose ketogenic diet pill in the making. While the use of "Keto BHB capsules" have been trending upwards for many years now ever since the 'Ketogenic Diet' made its first big media splash in January 2017, buying the Keto XP supplement may not be right for you. It is encouraged to ask the customer support service and the Keto XP company if there is any doubt or hesitation about this keto weight loss supplement.
TheHealthRadar will continue to update this Keto XP review with more information that comes to light about not only its possible effectiveness but its affiliation with the Shark Tank TV show. For reference and access to the official Keto XP website that has nothing to do with Shark Tank (or Dr. Oz or Oprah etc.), visit TryKetoXP.com.