A recent survey of our daily news audience revealed many were curious in the relationship between Shark Tank tv show and Keto diet pills due to the popular rise in advertisements featuring these two trending topics of interest.
Shark Tank is a television show on the ABC network, serving as a investment platform enabling entrepreneurs to pitch major investors for a stake in their company and ideas that can act as a catalyst for their business progression. There have been many hundreds of companies and brands who were given the opportunity to present their products and services, but only a single keto diet supplement brand has ever graced their presence. TheHealthRadar team managed to verify the veracity of this research, but does not answer the question of why so many keto diet products are claiming to be featured and chosen on the Shark Tank show.
As the 2020 New Year's resolution season kicks off, let's review how these fake editorial ads involving 'Shark Tank Keto diet pills' work, how to avoid them and save your hard earned money on reputable products from trusted brands.
Quick Look:
The first company to push the keto diet to Shark Tank is on an episode in 2018.
A cookie for the keto diet, Nui, was featured in the same month and received an investment from guest judge Alex Rodriguez.
To date, January 2020, a keto weight loss diet pill has never been on Shark Tank TV episode.
When the Shark Tank and Keto Pills Association Began
In the diet industry, creators of these regimens will use just about every advertising ploy in the book. They'll promise big results, but the results will be only that significant in extreme cases. They'll promise that consumers won't have to count calories, but then they will have to count carbohydrates. Surely stating that a whole television show endorsed their product is on the list of things that a diet supplement company would never dare to do. Or is it?
If that's the case, what is going on with all of these other ketogenic diet related supplements that boast the same privilege? Many who reached out to THR said the advertisements were filled with headlines such as "Weight Loss Pill That Naturally Burns Fat Gets Biggest Deal In Shark Tank History" and will be filled with pictures of past contestants like 'Anna and Samantha Martin' who had absolutely nothing to do with ketogenic diet products when they visited the TV show here. These ads fill the Google Adwords platform as well as all over Facebook social media network promoting a wide variety of keto diet pills with different names, labels and logos but all resort to using the same marketing gimmicks and tactics.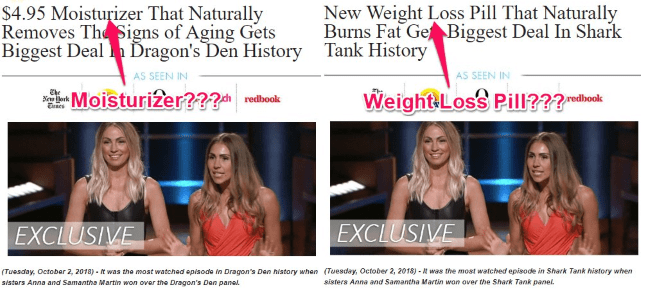 Unfortunately, this lie doesn't seem to be off the table for quite a few companies. In fact, there's even a company that calls itself Shark Tank Keto, which fills up online search results with paid advertisements for ketogenic diet pill supplements that have no actual connection to the Mark Cuban created Shark Tank. However, it's not like these advertisements popped up out of nowhere. In fact, they can specifically be traced back to an episode of Shark Tank in 2018. Here is a picture showcasing the growing search interest on Google for keto and Shark Tank as an entity (which they never were).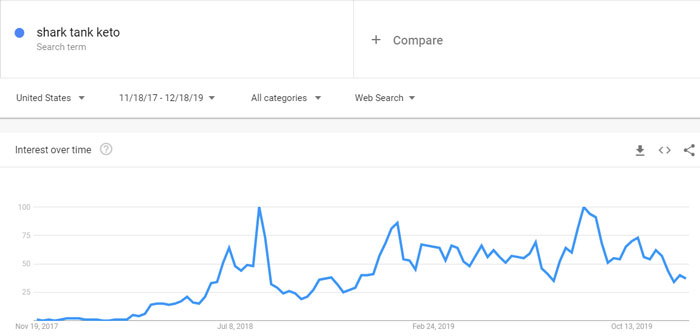 During the episode, a company called Honest Keto Diet stated that their dietary supplement could help consumers to reach a state of natural ketosis without following the ketogenic diet. Ketosis is a metabolic state that the body reaches when it cannot get energy from carbohydrates, leading the body to instead use stored fat. Basically, Honest Keto Diet was pushing a diet pill that forces the body to lose weight without actually doing anything, so it isn't exactly a mystery regarding why it gained popularity. Here is an illustration anyone can go conduct via Google search engine by typing in anything related to keto and Shark Tank and will get similar results: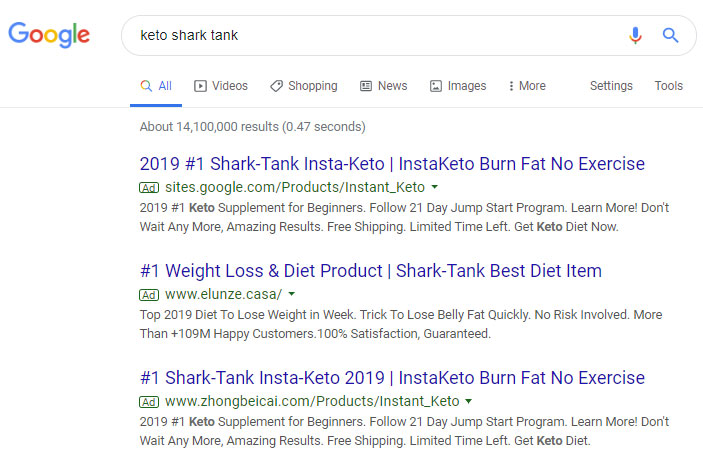 As this product was featured on the show, many dishonest companies popped up with their own variations of the keto supplement. Each of them advertised the same benefits – suppressed appetite and an unearned state of ketosis. In reality, most of these formulas contained caffeine or similar ingredients to give the illusion of weight loss.
While the launch of all of these supplements by bad players gave customers doubt, Honest Keto Diet was real. As of June this year, it remains the only supplement to ever be featured on Shark Tank and it can now be purchased on Amazon. There are a few downsides to this type of diet – customers often feel a lot hungrier after following the diet and there's probably already all of the ingredients necessary for a keto supplement in any consumer's home. Keto pills, for the most part, have electrolytes and vitamins to stimulate the production of BHB hormones, subduing the appetite during the diet. However, as soon as the diet is over and the appetite suppression ends, the counter-reaction is intense.
While the ketogenic diet was one of the top trending diet programs of 2019, and Shark Tank is a widely watched and distributed television show, the attraction of the very-low-carbohydrate keto diets (VLCKD) has captured the imagination of tens to hundreds of thousands of people around the world as these schemers try to use someone famous in attempt to shill and sell these questionable weight loss diet pills.
Multiple Fake Keto Celebrity Endorsements Emerge
To be entirely clear, there are no supplements present in the industry that have been endorsed by Shark Tank, even Honest Keto Diet. However, there is another company that seems to have made it to the small screen – Nui. Nui was featured in November 2018, during the same month that Honest Keto Diet popped up. Nui offers low-sugar, high-fat cookies, which is exactly what the keto diet is about. By the end of the episode, the company scored a deal with MLB star Alex Rodriguez – a guest judge for the episode – for $300,000.
These companies haven't just claimed that they've been a part of the hit ABC show; they have also claimed to be advertised by celebrities like Chrissy Teigen. Considering that Teigen is fairly outspoken about any wrong is done against her, the celebrity selection probably wasn't wise. The mother of two took to Twitter to clear up any statements, saying that she's already requested her removal from the website of Keto Fit.
this is completely made up bullshit and I've asked them to remove it many times. fuck this entire company for typing out such bullshit words. https://t.co/vmJEGRHU5g

— chrissy teigen (@chrissyteigen) January 12, 2019
Demi Lovato and Jameela Jamil, who have both spoken out about body image issues and encouraged their fans not to take diet pills or try to squish their body into a size 2, have been targeted with these ads. Whenever a brand gets caught, it mysteriously shuts down before a new one pops up, making the process of catching these companies rather difficult. There was also the stories about Director Kevin Smith, Briana and Ryan Culberson, Amanda Holden and even Meghan Markle all being the latest victims of the fraudulent keto diet pill celebrity endorsement phishing scam floating around the Internet.
All of these non Shark Tank affiliated keto diet supplements even got Dallas Mavericks team owner and billionaire Mark Cuban to respond via Twitter to a user who asked directly:
Mark did the Sharks invest in a company that sells diet pills by the name of KETO? It's being advertised so i just wanted to be aware.

— Gale Gault (@GaleGault) July 4, 2018

Keep these fraudulent celebrity endorsements on your radar as it stands not a single name mentioned here has any affiliation or support of following the keto diet, let alone keto diet pill supplementation. Despite the ketogenic diet being hailed as a weight loss wonder in the mainstream media, there are many ill side effects that could arise that many should pay attention to should they opt to follow the low-carb, high-fat diet.
Keto Shark Tank Scam Final Word: Buyer Beware
Considering that the year 2020 is set to be a big year for weight loss and fitness trends, knowing what to look out for could mean the difference between getting scammed and getting results. There are dozens of companies that claim to be the prominent Shark Tank keto supplement, but there's only one company that can claim that they were featured, and they did not even showcase or acknowledge any diet pill. product
Sadly, to top it off, even the verifiable science to date has its doubts about whether or not the ketogenic diet in a pill is possible. As always, be wise and stick to a smart shopping strategy when it comes to buying supplements online claiming to be miracle diet pills. TheHealthRadar will continue investigating and following up on this trending story as 2020 New Year diet resolution's are here and these claims from keto diet supplements being featured on Shark Tank are sure to persist, thus relying on awareness and education of the user. Buyer beware!