The beverage industry is highly competitive, and Coca Cola has repeatedly come out on top through the decades. Now, the company is working to launch their own energy drink in the United States for the first time ever. How will that fair for Monster Energy, with whom Coca Cola has a partnership?
New Coke Energy Drink by Coca Cola Readies for January Launch as Monster Prepares Their 2020 Expansion
The energy drinks will include full calorie and zero calorie options.
Monster Energy will continue to use the bottlers involved in their agreement with Coca Cola.
The Coca Cola Company has been around for decades, consistently bringing the public new and innovative flavors with their plethora of soft drinks and other beverages. Now, the brand is launching an innovative new product – their own Coke Energy drink, which is planned for launch this month in January 2020. The line offers both full-calorie and zero-calorie options, and it already debuted in Hungary and Spain with expansion to 25 European countries already. Here is a Facebook video posted to the Coca-Cola Australia page:
https://www.facebook.com/CocaColaAustralia/videos/294448337975709/
The four options of the 'a classic with an extra kick' energy drink by Coca Cola will include; original Coca-Cola Energy, a Zero-Sugar Coca-Cola Energy, Cherry-Flavored Coca-Cola Energy and Coca-Cola Energy Cherry Zero Sugar. However, the Coke Energy Cherry and Cherry Zero Calorie options will be exclusive to the US market, according to BevNet.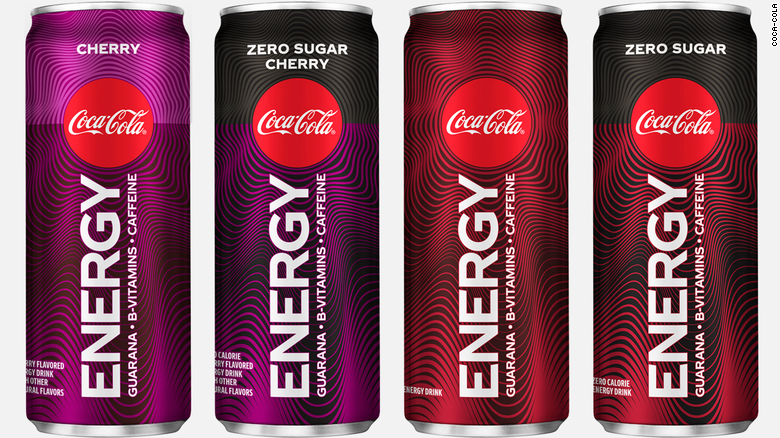 This line of Coke energy drinks will all contain 114 mg of caffeine each (which is four times the amount of regular Coca-Cola or three times Diet Coke), condensed into a 12-ounce single-serving can. Along with the flavors and caffeine, consumers will also find these drinks filled with guarana extract and B-vitamins. One of the official websites for Coke's energy drink listed the following as all of the ingredients found in the new Coca Cola product: Sparkling Water, Sugar, Dextrose, Citric Acid, Phosphoric Acid, Natural Flavourings, Colour (Caramel E150d), Acidity Regulator (Sodium Bicarbonate), Caffeine (0,03 %), Preservatives (Sodium Benzoate, Potassium Sorbate), Vitamins (Niacin (B3), Vitamin B6), Guarana Extract (0.001%). As for the Coca-Cola Energy No Sugar variety, the sugar alternatives used are sucralose and acesulphame-K.
Janki Gambhir, the innovation brand director at Coca-Cola Trademark, stated,
"As a total beverage company, we're constantly looking for ways to evolve our portfolio and bring people the drinks they want. We saw an opportunity to meet an unmet need in the category. While energy drinks are one of the fastest growing NARTD [Non Alcoholic Ready to Drink] beverage companies in the US – with sales growing around 5% annually – household penetration has slowed."
The debut of this energy drink from Coca Cola is projected to be the endgame for the dispute between the soft drink company and Monster Energy. Coca Cola presently owns a 16.7% stake in the energy drink manufacturer, and even uses their franchised bottlers in the US and Canada to distribute the products. Monster, which is one of the best-performing stocks since it debuted in 2003, has rose over 20% in the past year and 60,000% since it launched.
Due to the terms of the 2015 distribution agreement, the carbonated soft drink and energy drink companies chose to split up. These terms specifically prohibited Coke from launching a direct competitor for Monster, allowing a single exception – the competitor would have to be introduced with the use of the Coca Cola trademark. The disagreement was settled in favor of Coca Cola, though it had to go through an arbitration hearing last summer. Through the legal process, the companies continued to reaffirm their partnership. As the Wall Street Journal summarized, "deal bars Coca-Cola from distributing competitive energy drinks but includes an exception for products marketed under its brand."
"Coca-Cola has a very specific objective — they want to see themselves positioned next to Red Bull, not next to Monster. They see the products as being incremental to the category and not something that will take space away and share away from Monster."
As the Coca-Cola Coke Energy drink plans to launch to the United States, there are more reports sharing concerns from Monster that it will 'squeeze its shelf space' as a potential rivalry in the global energy drink market heats up, which was valued at over $53 Billion in 2018 and expects to be a near $90 Billion industry in the next five years.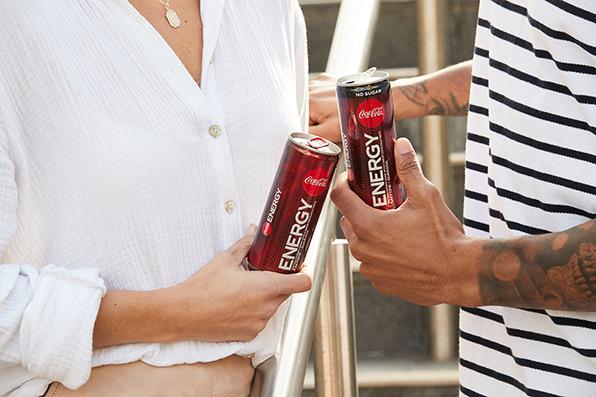 To prevent any overlap that could disrupt either company, Sacks noted that Monster (who owns Monster Energy, NOS and Reign product lines) plans to continue working with the bottlers. However, the brand still needs to "protect [their] own space" and "can't have a joint approach" with Coca Cola. Sacks added, "They are going to go out and get whatever shelf space they want, and they'll respect our shelf space and we'll do likewise."
The cost of Coke Energy drinks will be higher than regular coca cola sodas, where one can will have a price of $2.49 per 12-ounce container. In a quest to become a global beverage company, Coca-Cola plans on Coke Energy being a smash hit along with its other ranges of iced teas, waters, coffees, smoothies and juices. As for Monster, the latest reports show they are set to launch Java Monster 300 (which has 300mg of caffeine) and a new line based on the Hydro sports drink water called Hydro Super Sport in 2020. Monster is also going to expand its Reign performance energy brand with three new options too.
It will be interesting to see how the new rollout of Coca Cola Energy pans out as Monster and Coke Energy go head to head for the coveted shelf space at major convenience stores, grocery supermarkets and other retail outlets in 2020. As it stands now, Nielsen reports that Monster's brands make up nearly 40% of US energy drink sales while Red Bull accounts for just over a third at 34% market share. Will other prominent energy drink brands and companies like Rockstar, Pepsi, Arizona Beverage, National Beverage, Dr. Pepper Snapple, Living Essentials and Cloud 9 feel the presence of Coke Energy in 2020 and beyond?
We will be sure to update the details about Coca Cola's highly-anticipated Coke Energy launch and how the demand from a major beverage company's debut unfolds in a booming energy drink market.