The R95 Reusable Face Mask from Self Reliance Association is a one size fits all anti-pollution facial protector with disposable filters that is made with stretchy, breathable fabric and ear loops that can help remove 95% of airborne particulate matter.
The R95 Reusable Face Mask is a one size fits all personal protective face mask from the Self-Reliance Association and SelfRely.com, helping to filter out germs and other bacteria that could pose a threat to the user's health. The face mask can be sanitized with a disinfectant or with heat.
What is the R95 Reusable Face Mask?
Centers for Disease Control guidance states it's been challenging to understand for many Americans, especially as social media has circulated stories regarding whether the use of masks is actually necessary. According to the most recent updates from the WHO, CDC, and even the Surgeon General, "wearing a mask offers more protection than not wearing one." However, the concern isn't just over the wearing of face masks, but of the way that the facemasks are worn.
There are reports that suggest that wearing a mask could be hazardous to the wearer's health, but that's only half of the truth. The act of wearing the mask is only hazardous without proper cleaning to keep bacteria eradicated. Unfortunately, far too many people are repeatedly using masks that are meant for a single-use, even though there are other options like R95 Reusable Face Mask on the market.
The R95 Reusable Face Mask, which comes directly from SelfRely.com, covers both the nose and mouth, allowing the user to breathe in clean air through the included filter. This mask sets itself apart with the lengthy amount of time that the mask can be worn while still offering the same protection.
Here is a video outlining how the Self Reliance Association's R95 Reusable Face Mask works:
Get a Discount on Your Face Mask
To make sure that consumers are able to stock up on this mask, it is available for $49.97, if the user is just buying one. The user can upgrade to the $99.94 package if they want to add a set of filters to change out as well.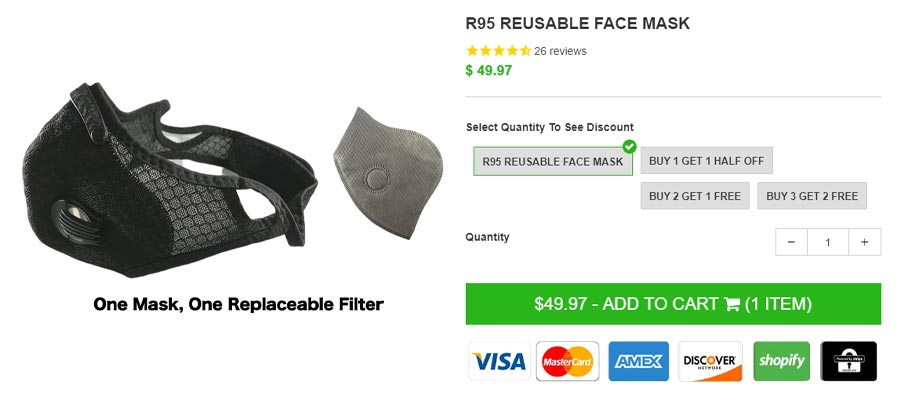 Keeping a clean mask available at all times is in the best interest of the individual who wears it, and there are several packages available with multiple R95 facemasks for a lower cost. Choose from:
Buy 1, get one half-off for $74.96
Buy 2 and get 1 free for $99.94
Buy 3 and get 2 free for $149.91
All of these packages can include 8 replacement filters for an additional $49.97.
Frequently Asked Questions About R95 Reusable Face Mask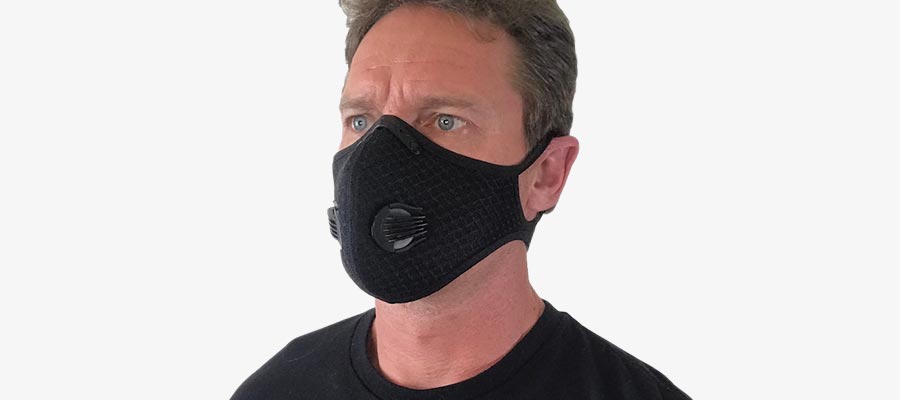 Q. What is the R95 Reusable Face Mask?
A. The R95 Reusable Face Mask is an accessory that users can wear to defend themselves against 95% of airborne contaminants. It offers a one size fits all comfortable, yet snug fit and the ear loops reduce the risk of slippage.
Q. How should the R95 Reusable Face Mask be cleaned?
A. here are two ways that the mask can be cleaned of any bacteria. The first way to disinfect it is to simply use a mild disinfectant. For individuals that want a bit more intense method, they can turn on their oven to 250 degrees, placing the mask inside for 5 minutes. The filters, however, are disposable.
Q. How long does the protection last from the filters?
A. The filters, with heavy use, can work for up to 9 hours. While they are being worn, 95% of the particles in the air will not pass through. If the user needs to breathe with greater ease, they can remove the exhaustion valves. However, they may not get the same protection.
Q. Are there other sizes available?
A. No. This mask is designed as a one-size-fits-all accessory.
Q. How long will it take to receive the R95 masks?
A. Typical shipping takes about five business days. It is sent out from Salt Lake City (Utah) and takes about two business days to leave the facility.
For further answers to any questions consumers may have, consumers may contact the customer service department about orders and product information at Barbara@SelfRely.com or by phone and leave a message at 1-800-599-3104.
Final Thoughts
The R95 Reusable Face Mask offers a defense that could potentially protect the wearer from illness. This product doesn't specifically market itself as an effective layer of protection from the novel coronavirus, but it is much safer than not wearing one at all. The included filter allows users to wear the mask throughout an 8-hour shift with the same performance, though the sterilization of the mask will keep it clean from one use to the next.
To learn more about this R95 Reusable Face Mask, click here to visit the official Self Reliance Association website today.